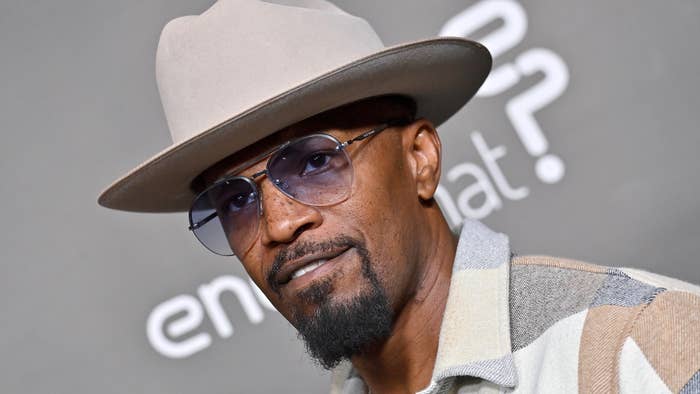 Fans received a crucial update on the much-anticipated Spawn reboot starring Jamie Foxx.
According to the Hollywood Reporter, three new writers have been tapped to pen the script based on the Todd McFarlane-created comic. The additions are Malcolm Spellman of Marvel's The Falcon and the Winter Soldier and the upcoming Captain America: New World Order, Scott Silver (DC's Joker, 8 Mile, The Fighter—all three of which won Oscars), and up-and-comer Matt Mixon, who wrote and directed the 2016 documentary Yesterday Was Everything.
McFarlane confirmed the news to THR on Wednesday, and suggested he may no longer pursue the director role he was mulling.
"If we've got an A-list actor, A-list producers, A-list writers, then do you want to shoot for A-list directors, A-list cinematographers?" McFarlane explained. "The answer is, 'Of course.' Let's keep the momentum going."
Though plot details have not been revealed, Spellman said he's always been fond of the Spawn comics and is committed to upholding McFarlane's vision.
"I grew up in Berkeley, which is a comic book city. Todd McFarlane's Spawn character was always one of my favorites — a Black superhero that was no bullshit, he was cool and dealt with modern issues," said Spellman—who also executive produced and wrote for Empire and Bel-Air—in a statement. "Myself, Matt Mixon, and Scott Silver are pledged to honoring what Todd started and what Spawn is at its core, delivering something that's relevant and edgy and unlike any other superhero movie out there."
The announcement was originally slated for Tuesday but ultimately delayed, with McFarlane explaining this was due to a temporary bump in the approval process.
"When you're dealing with a team of people, you've got a lot of approvals across the board and something popped up," he said during an interview with New York's Q 104.3 on Wednesday. "It was like, 'Oh, we've gotta bump it 24 hours.' Wouldn't have been my choice."
The reboot was announced five years ago with Foxx attached to play the title character. On Wednesday, McFarlane confirmed the Oscar-winning actor is still playing the part.
"Jamie Foxx has been with it the whole time. … He's still on board, hasn't wavered or anything," McFarlane said, as seen in the clip above. "He's sort of hardcore with it."
But the same can't be said for Jeremy Renner, who joined Spawn back in 2018. According to THR, it's unclear if the Marvel actor will remain on the project, as the new script may shake up production plans. The outlet reports the original draft "was for a low-budget feature, but the new Spawn may get a slightly heftier budget."
Brian Tucker (Broken City) had signed on to pen the Spawn screenplay in 2021. The details surrounding his departure have not been revealed. Spawn was previously brought to the big screen in 1997 with director Mark A.Z. Dippé's Michael Jai White-led adaptation. McFarlane said he and his Spawn team are now looking for a studio partner.
Also in Foxx-related news, Kanye West asked his fans today who should play him in a biopic, suggesting his former collaborator and referring to him as "one of the greatest geniuses."