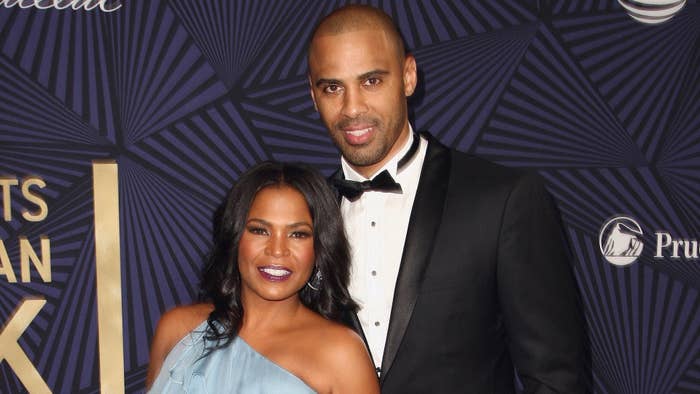 Nia Long is looking forward to the future.
In a recent interview with the Hollywood Reporter, the 52-year-old actress opened up about the cheating scandal involving her longtime partner Ime Udoka. The Boston Celtics head coach was suspended from the team back in September, after he was accused of having an "improper intimate" relationship with a female Celtics staffer. But despite the highly publicized scandal, Long told THR that she's moving forward and remains optimistic. 
"2023 is like the year of new beginnings for me," Long said. "I couldn't be more excited."
Though the Friday star seems to be dealing with the drama quite well, she revealed it was been quite "devastating" for her and Udoka's 11-year-old son, Kez. Long said she pulled the pre-teen out of school shortly after news of the alleged affair went public.
"I think the most heartbreaking thing about all of this was seeing my son's face when the Boston Celtics organization decided to make a very private situation public," she explained. "It was devastating, and it still is. He still has moments where it's not easy for him."
Long, who also has a 22-year-old son from a previous relationship, said she was also disappointed with the Celtics, as no one from the organization has reached out to check on her or her family.
"If you're in the business of protecting women—I'm sorry, no one from the Celtics organization has even called to see if I'm OK, to see if my children are OK," she said. "It's very disappointing."
However, Long said she has been comforted by the wave of support she's received from the public.
"This tribe of women and men who were standing up for me in a way that felt like I was in this bubble of protection," she explained, "and that was very comforting."
The Celtics suspended Udoka for the 2022-2023 season, after investigating the coach's affair with an unnamed employee. The team began investigating the consensual relationship earlier this year, after the woman claimed Udoka had made "unwanted comments" toward her.
Udoka, who was hired as the Celtics head coach in June 2021, issued a public apology following his suspension.
"I want to apologize to our players, fans, the entire Celtics organization, and my family for letting them down," he said in a statement. "I am sorry for putting the team in this difficult situation and I accept the team's decision. Out of respect for everyone involved, I will have no further comment."