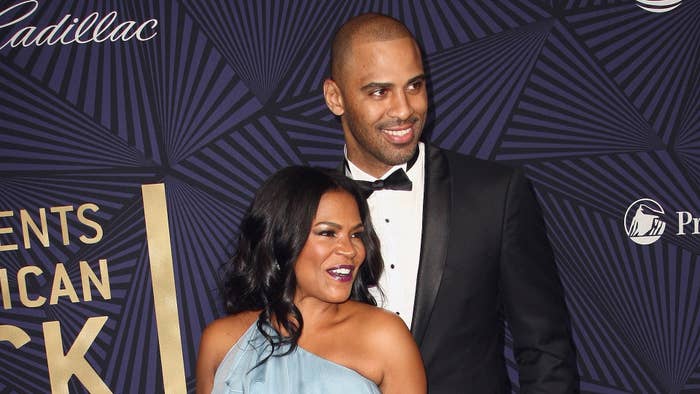 We now have more details about Ime Udoka's alleged affair.
As previously reported, the Boston Celtics suspended the head coach after learning he had an "intimate relationship" with a female staffer. Though the relationship was described as consensual, the woman reportedly accused Udoka of making "unwanted comments" toward her, which prompted the Celtics to get involved. After conducting a series of internal interviews, the team decided to suspend Udoka for the entire 2022-23 season over "violations of team policies."
The staffer's identity has not been revealed, but sources tell TMZ that one of her duties was travel planning—not only for Udoka, but also his longtime partner/fiancée, Nia Long. Insiders say the woman organized Long's travel for away games, and even assisted her move to Boston. According to TMZ, the actress and her 10-year-old son permanently moved to Bean Town a couple of weeks ago, approximately two months after Udoka became aware of the Celtics' investigation.
"The outpouring of love and support from family, friends and the community during this difficult time means so much to me," Long said in a statement to People magazine. "I ask that my privacy be respected as I process the recent events. Above all, I am a mother and will continue to focus on my children."
Following his suspension, Udoka issued a public apology.
"I want to apologize to our players, fans, the entire Celtics organization, and my family for letting them down," he wrote. "I am sorry for putting the team in this difficult situation and I accept the team's decision. Out of respect for everyone involved, I will have no further comment."