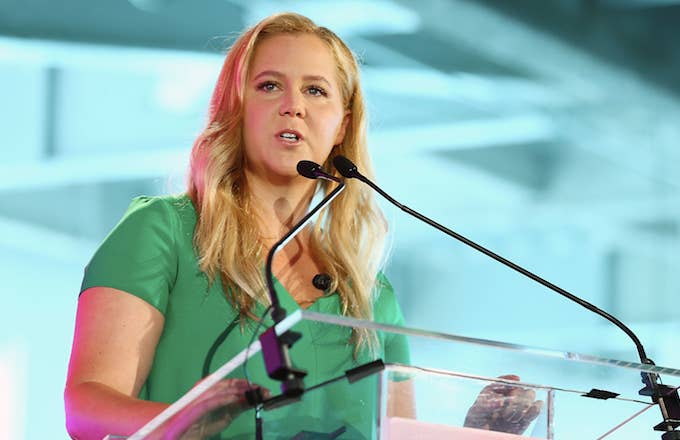 Amy Schumer stands with Kap.
The outspoken comedian took to Instagram on Friday to announce she will not appear in Super Bowl ads this year as a sign of support for Colin Kaepernick. As you're probably aware, Kaepernick claims he placed on the NFL's blacklist because of his on-field protests against police brutality and racial injustices. Schumer said she intends to send a message to the league by interfering with their ad revenue, and has called on others to follow to join her in the boycott.
"Once you witness the truly deep inequality and endless racism people of color face in our country, not to mention the police brutality and murders. Why not kneel next to your brothers? Otherwise, how are you not complicit?" she wrote in her Instagram post. "[…] I personally told my reps I wouldn't do a Super Bowl commercial this year. I know it must sound like a privilege ass sacrifice but it's all I got. Hitting the NFL with the advertisers is the only way to really hurt them."
Schumer shared the post just days after it was reported that Rihanna had turned down the Super Bowl halftime show as an act of support for Kaepernick. Sources said that soon after the singer declined the offer, league officials enlisted Maroon 5.
"I think it would be cool if @maroon5 backed out of super bowl like @badgalriri did," the 'I Feel Pretty' star also wrote.
Schumer's statement was met with more praise than criticism, as fans and fellow celebrities applauded her decision.
"Respect," Diddy captioned a screenshot of Schumer's message. Charlamagne tha God also saluted the comedian for using her privilege to make a difference.
"Statements like this help to restore my faith in humans," he wrote. "This is how you use your privilege to combat prejudice. I mean the LEAST you can do is call out the bullshit when you see it."