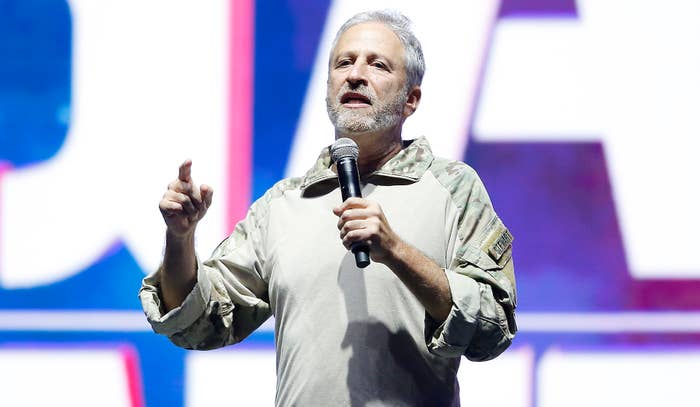 Jon Stewart took to Twitter on Saturday to shut down the idea of a 2024 presidential run after Politico published an op-ed suggesting the former Daily Show host is "exactly the person" the Democratic party needs to run on the ticket should President Biden decline to run again.
In the piece, titled "If Tucker Runs in 2024, Here's Who the Democrats Need," Juleanna Glover declared that the Democratic party should seriously consider Stewart for the 2024 ticket, as he is "a better fit than most politicians for what modern politics has become."
It didn't take long before Stewart shut down the possibility, tweeting, "Ummm...No thank you."
From there, Stewart urged politicians to turn their focus to a veterans' healthcare bill that is currently being blocked by Republicans. 
"But while I have your attention, could all of you (including news orgs) please ask @PatToomey why he is single-handedly stalling a veterans health care bill that passed w huge bipartisan support over a technicality?" 
This isn't the first time Stewart has advocated for veterans. Back in January, he spoke at a virtual roundtable with the House Committee on Veterans' Affairs, calling on lawmakers to address the issue of toxic exposure affecting veterans. 
"The bottom line is this: Our country exposed our veterans to poison for years, and we knew about it, and we didn't act with urgency and appropriateness," Stewart told the committee at the time