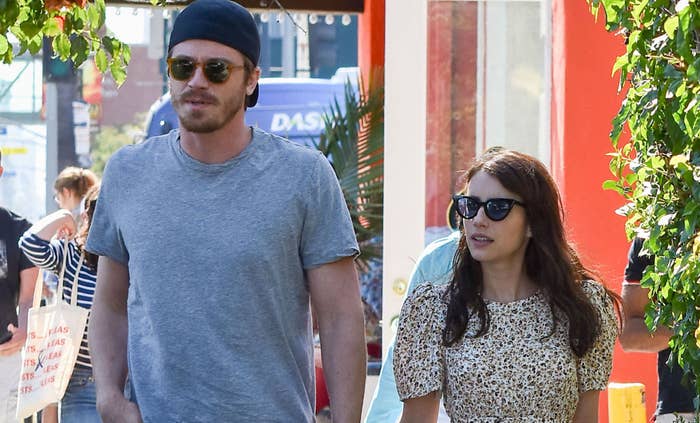 Emma Roberts and Garrett Hedlund have reportedly called it quits after three years of dating.
Peoplereports the couple officially broke up a few weeks ago following a rocky period in their relationship. "It's sad, and they are trying their best to co-parent. It's been hard," an insider told the outlet.
The news arrives nearly three years after the pair started dating, and just over a year after they welcomed their first child together, son Rhodes Robert Hedlund, in December 2020. Roberts, 30, and Hedlund, 37, recently celebrated Rhodes' first birthday, taking to Instagram to share photos of the special occasion. 
News of their breakup comes on the heels of a report that Hedlund is facing a personal injury lawsuit from two women almost two years after a head-on car crash.
In court documents filed on Jan. 21 and obtained by People, Hedlund allegedly "passed out behind the wheel of his vehicle and ran a solid red-light at a high rate of speed," forcing him to crash into Marina Venegas and her daughter, Jennifer Castillo.
"Hedlund's conduct was despicable in that he knew and was educated in the dangers presented to Plaintiffs and the public when he operated a vehicle while intoxicated," the complaint read. "There was a very strong odor of hard liquor emitting from Hedlund's breath, body, and the cab of the Jeep despite the windows being open/broken."
The documents added, "There were open bottles of alcoholic beverages in the vehicle which Hedlund discarded prior to the arrival of police. Hedlund tried to flee the scene of the accident by attempting to continue to turn on his vehicle and driver, forcing others to take away his keys and prevent him from leaving."
Hedlund was arrested on two DUI charges in February 2020. He pleaded no contest to one count of DUI and was found guilty, while a second DUI charge was dismissed.