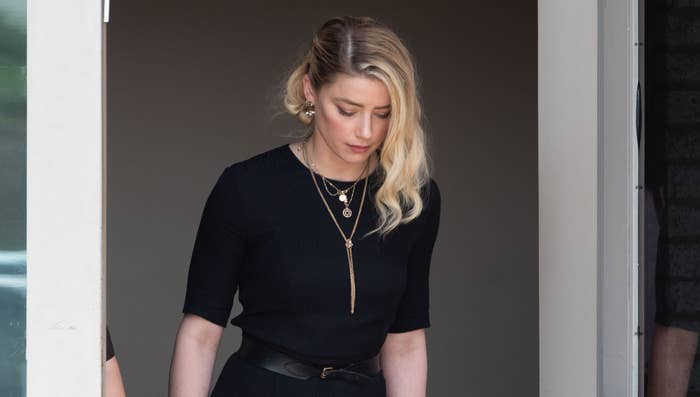 A spokesperson for Amber Heard is denying a report that the actress was cut from Aquaman and the Lost Kingdom, the forthcoming sequel to DC's 2018 film Aquaman.
On Tuesday afternoon, JustJared claimed that Heard had been axed from the Warner Bros. film, which is scheduled to hit theaters in March 2023. The outlet reported that Heard's role of Mera would be recast with an unnamed actress.
"Warner Bros. decided to recast Amber Heard's role after screen testing the movie. They are going to be doing reshoots with Jason Momoa and Nicole Kidman," sources told Just Jared.
Per TMZ, a spokesperson for Heard has denied the "slightly insane" rumor.
"The rumor mill continues as it has from Day One—inaccurate, insensitive, and slightly insane," Heard's rep told the outlet.
The news arrives nearly a month after Heard claimed her role in the DC sequel was cut down amid mutual abuse accusations between her and ex-husband Johnny Depp. 
During her highly publicized defamation trial, Heard said she "fought really hard to stay in the movie" but Warner Bros. "didn't want to include me in the film" as returning character Mera. As a result, she was left with a "very pared down version." 
"I was given a script and then given new versions of the script that had taken away scenes that had action in it, that depicted my character and another character, without giving any spoiler aways, two characters fighting with one another, and they basically took a bunch out of my role," Heard said, per Variety. "They just removed a bunch out."
Heard's comments came after 3 million people signed a petition to have her fired from the upcoming film entirely.
Meanwhile, during a testimony presented at the trial back in May, DC President Walter Hamada confirmed that Heard was almost removed from Aquaman and the Lost Kingdom, but only due to a lack of chemistry between the actress and star Jason Momoa.
"They didn't have a lot of chemistry together," Hamada testified. "The reality is it's not uncommon on movies for two leads to not have chemistry and it's sort of movie magic and editorial — the ability to put performances with the magic of a great score and how you put the pieces together, you can fabricate that chemistry. At the end of the day when you watch the movie, it looks like they have great chemistry. But I just know that through the course of post production, it took a lot of effort to get there. Sometimes you just put characters together on the screen and they work. It's like what makes a movie star a movie star. You know it when you see it. The chemistry wasn't there … This one was more difficult because of lack of chemistry between the two."