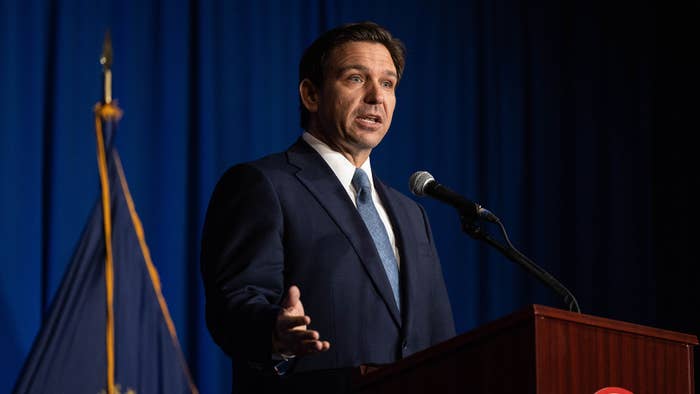 Amid Disney's attempts to stop Florida's takeover of its special taxing district, Governor Ron DeSantis has threatened to build a prison next to Disney World, per CNN.
On Monday, the Republican governor continued to fan the flames in his attempt to "formally nullify" Disney's efforts to maintain control of the Reedy Creek Improvement District, which the Florida Legislature passed a law to abolish last year. The district has given Disney control over the land around its theme parks in Orlando, Florida, and DeSantis has sought to void the company's special status ever since it was outspoken against his controversial anti-LGBTQ+ "Don't Say Gay" legislation. 
Disney reached an agreement with the Reedy Creek Improvement District's outgoing board of supervisors earlier this year, rendering any attempts by the state to take over the district ineffective. When the news was made public, DeSantis made it clear that his battle with Disney was far from over. In a radio appearance on Monday, he argued that the agreement was "defective" and would not be recognized by the state of Florida. He said that he will "make sure Disney is held accountable," thanks to a new board made up of five appointees of his choosing.
The board has control over some of the land, and DeSantis has suggested that he could build either a prison or a competing amusement park on the land. "Come to think of it now, people are like, 'Well, what should we do with this land?'" DeSantis said. "Maybe create a state park. Maybe try to do more amusement parks. Someone even said like, maybe you need another state prison. I mean, who knows? I mean, I just think that the possibilities are endless."
During the chat, he also said that he could have it so the board raises taxes on the company's theme parks in Florida. If such a move were to happen, the taxes could be used to pay off some of the district's debt, effectively dissolving it for good. The Reedy Creek district could not be dissolved last year due to its $1 billion in debt, and the 1967 law prohibits the state from dissolving it without paying off the debt first. 
DeSantis recently signed a bill that bans abortions after six weeks and requires victims of incest and raper to provide proof for exception from the ban.