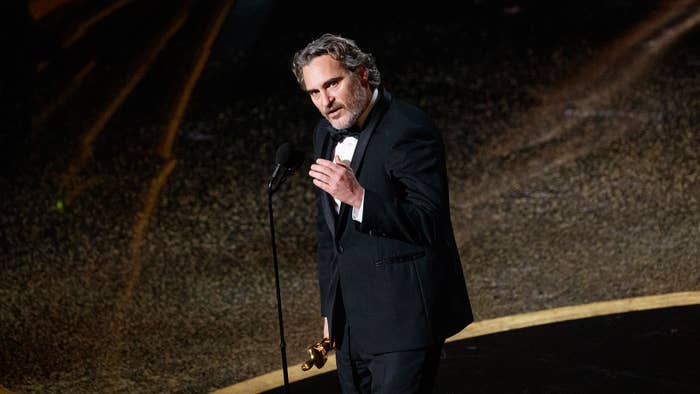 Throughout awards season, Joaquin Phoenix has used his position to talk about causes important to him. The Joker star made sure to stress the damage of climate change after he won at the Golden Globes, and highlighted the industry's problems with diveristy at the BAFTAs. He touched upon the topics of representation, racism, inequality, and animal rights when he won Best Actor at the Oscars on Sunday, and one part of his speech really got people talking.
"I think we've become very disconnected from the natural world," Phoenix said when discussing animal's rights. "And many of us, what we're guilty of, is an egocentric worldview, the belief that we're the center of the universe. We go into the natural world and we plunder it for its resources. We feel entitled to artificially inseminate a cow, and when she gives birth we steal her baby, even though her cries of anguish are unmistakable. And then we take her milk, that's intended for her calf, and we put it in our coffee and our cereal."  
Phoenix has often promoted a vegan lifestyle, and has previously campaigned for both In Defense of Animals and PETA. Regardless, his comments came as a surprise to many watching the awards ceremony, prompting some interesting responses on social media.
See what Twitter had to say about Phoenix advocating for more oat milk in all of our lives below.