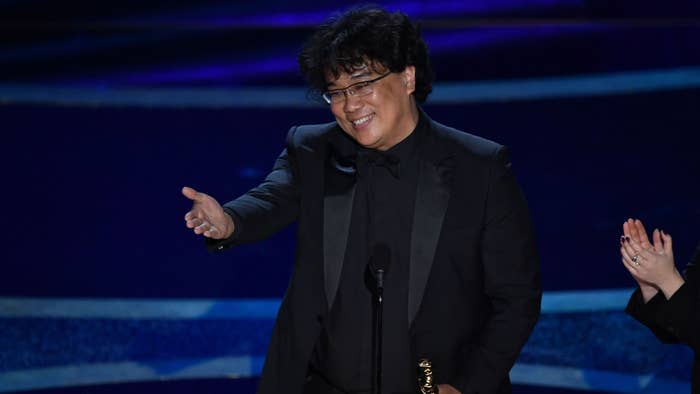 Bong Joon-ho's Parasite won big at the 2020 Oscars—despite purported opposition. And it did it in historic fashion. 
The South Korean black comedy/thriller ended the night with four prizes: Best Original Screenplay (Joon-ho and Han Jin Won), Best Director (Joon-ho), Best Foreign Language Film, and the top award of the night, Best Picture.
"We never imagined this to happen, we're so happy," producer Kwak Sin Ae said through a translator during the Best Picture acceptance speech. "I feel like a very opportune moment in history is happening right now. I express my deepest gratitude and respect for all the members of the Academy for making this decision."
The stage lights began to fade moments later, prompting the audience to cheer in support for more speeches. The producers obliged. You can check out footage of the big win below.
Parasite is the first foreign language film to ever win Best Picture in the 92-year history of the Academy Awards. It is also the 11th non-English language film nominated for the top prize, and the sixth to receive nods for International Feature Film and Best Picture in the same year. To top it all off, Parasite is the first South Korean film to be nominated at the Oscars.
Outside of the Academy Awards, Parasite won the Cannes Palme d'Or and the Golden Globe Award for Best Foreign Language Film.