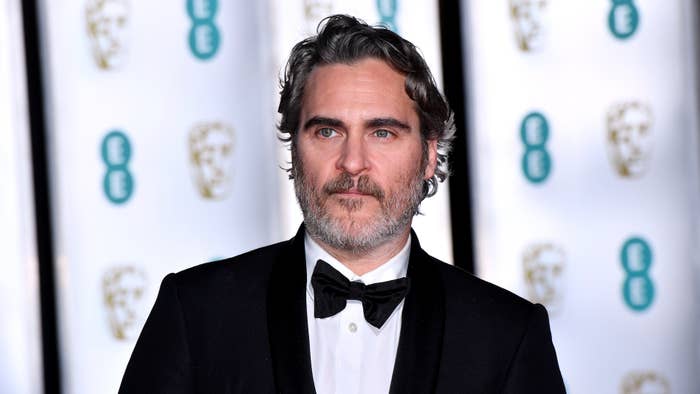 Joaquin Phoenix has already been awarded for Best Actor at the Golden Globes, Screen Actors Guild, and Critics' Choice Movie, among others, for his portrayal of Arthur Fleck in Joker that it can start to feel like the 45-year-old actor is merely going through the motions with his acceptance speeches. However, Phoenix has recently delivered some of his most impactful commentary, thoughtfully praising his peers and Heath Ledger's turn as the Clown Prince of Crime at the SAGs. 
On Sunday, Phoenix struck a candid tone once again during his acceptance speech at the BAFTAs, taking aim at the diversity issue that has been widely discussed throughout the awards season. "I feel conflicted because so many of my fellow actors that are deserving don't have that same privilege. I think that we send a very clear message to people of color that you're not welcome here," he said, per Deadline. "I think that's the message that we're sending to people that have contributed so much to our medium and our industry, and in ways that we benefit from."
Phoenix continued, "I don't think anybody wants a handout or preferential treatment, although that's what we give ourselves every year. I think people just want to be acknowledged, appreciated and respected for their work. This is not a self-righteous condemnation because I'm ashamed to say that I'm part of the problem." 
Phoenix acknowledged that he wasn't free from blame on this ongoing issue, and encouraged people to work towards finding a solution. "I have not done everything in my power to ensure that the sets I work on are inclusive, but I think it's more than just having sets that are multicultural," he admitted. "We have to do the hard work to truly understand systemic racism. I think it is the obligation of the people that have created and perpetuate and benefit from a system of oppression to be the ones that dismantle it. So that's on us." 
Phoenix touching on the lack of diversity on stage at the BAFTAs comes after the award ceremony came under fire last month for just nominating white people in every single major acting category, and failing to include a woman in its director category.