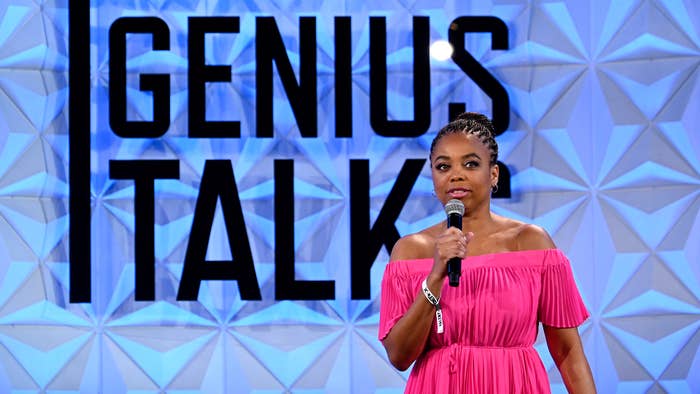 After criticizing Gayle King and Oprah Winfrey on his Instagram, Snoop Dogg called for the release of convicted sexual predator Bill Cosby. The disgraced comedian, who has been accused of sexual assault by over 60 women, publicly thanked the rapper for his support.
Jemele Hill isn't here for it, once again reminding people how serious the allegations leveled against Cosby are.
"I'mma just go sit down somewhere," Hill wrote on Twitter in response to Cosby praising Snoop for asking for his freedom. She shared an article in the next tweet: "For those still supporting Bill Cosby, is the first-person account of Beverly Johnson, the first black supermodel, saying Cosby drugged her and attempted to rape her enough for you to stop acting like Cosby is suffering an injustice?"
In a third tweet, she called out the hypocrisy of anyone supporting Cosby despite his history of criticizing black culture in general. "Bill Cosby was the same dude telling black men they didn't deserve any respect because they wore their pants too low, they listened to hip hop, and cussed too much," Hill wrote. "But please, come to the defense of someone who loved to moralize to our community while raping women."
In a comment on Snoop Dogg's Instagram, Hill directly addressed his support for Bill Cosby. "I love you bro, but please remember that Bill Cosby also victimized black women," she said, echoing her tweets. "I'm glad he was able to present a positive picture of a black Dad, but he also was very anti-black in other parts of his life."
Snoop's comments arrived after he responded to Gayle King's controversial interview with WNBA player Lisa Leslie, in which she asked her about Kobe Bryant's 2003 sexual assault case. 
"Gayle King, [you] out of pocket for that shit, way out of pocket," Snoop said in an Instagram video. "What do you gain from that? I swear to god, we the worst. We the fucking worst. We expect more from you Gayle. Don't you hang out with Oprah? Why y'all attacking us? We your people! You ain't come after fucking Harvey Weinstein, asking them dumb-ass questions. I get sick of y'all."
He then proceeded to upload pictures of King and Winfrey with Harvey Weinstein, who is currently on trial over rape allegations. Snoop took issue with Oprah over her interview with Michael Jackson's alleged victims." Did that fake ass Michael Jackson shit to tarnish his name with them lying ass kids and here she is with a known rapist smiling and laughing," he wrote.
"Fuck u and Gayle," he added. "Free Bill Cosby."