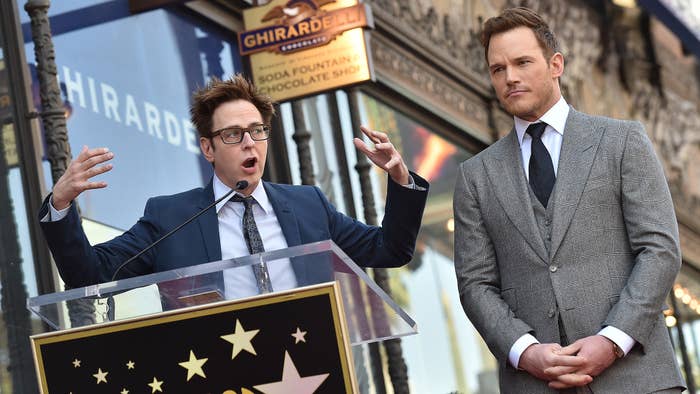 A growing number of Marvel fans have called for Chris Pratt to be replaced as Star-Lord in the MCU—where he has appeared four times—and now Guardians of the Galaxy writer/director James Gunn has responded.
For several years the actor has faced accusations of attending an anti-LGBTQ church in Los Angeles associated with the Hillsong Church, which has long faced criticism for homophobia. With Pratt set to reprise his role in Thor: Love and Thunder in July, The Guardians of the Galaxy Holiday Special on Disney+ in December, and Guardians Vol. 3 in 2023, fans have once again rallied for the actor to be swapped out. Gunn fought back against the narrative surrounding the 42-year-old and the places he practices his religion.
"Marvel. Hear me out. Just… replace him," wrote a fan in a viral tweet that included a photo of Pratt next to The Conjuring actor Patrick Wilson.
"For what?" replied Gunn. "Because of your made-up, utterly-false beliefs about him? For something that someone else told you about him that's not true? Chris Pratt would never be replaced as Star-Lord but, if he ever was, we would all be going with him."
When Gunn was fired from Guardians Vol. 3 in 2018 after far-right figures resurfaced some insensitive and problematic jokes he made on Twitter about a decade ago, Pratt was among the cast members who signed a letter calling for Disney to reinstate him. Pratt said he was "thrilled" to have the Suicide Squad and Peacemaker helmer back in the director's chair when Disney rehired him.
Gunn responded to more tweets about the Jurassic World franchise star this week, too, denying he could be considered homophobic.
"I know the church he currently goes to. Do you?" Gunn wrote to another Twitter user. "The answer is you don't but you heard from someone who heard from someone who heard from someone where he goes to church so decided, 'yeah, okay, I'll believe this terrible thing I heard online about this celebrity!'"
When his comments started to circulate on Twitter, someone suggested Gunn was just trying to "protect that paycheck." He simply replied, "It's sad you see the world that way."
This is far from the first time Pratt or those close to him have addressed such accusations.
"It has recently been suggested that I belong to a church which 'hates a certain group of people' and is 'infamously anti-LGBTQ,'" wrote Pratt on his Instagram Stories in 2019, as reported by CNN. "Nothing could be further from the truth. I go to a church that opens their doors to absolutely everyone."
Both Mark Ruffalo and Robert Downey Jr., his co-stars in Avengers: Infinity War and Endgame, defended him from critics in 2020.