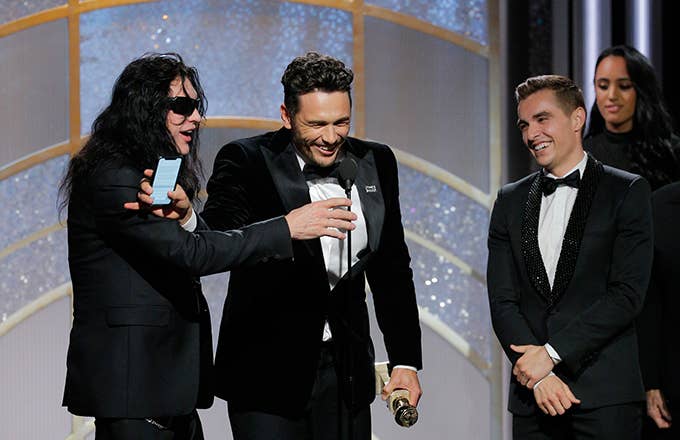 In a moment that broke the hearts of every fan of The Room, James Franco physically blocked Tommy Wiseau from making a speech at the Golden Globes last night. The director and star of The Room accompanied Franco to the ceremony, and when Franco accepted his awarded for Best Actor in a Musical or Comedy for his performance in The Disaster Artist, the film based on the book that details the making of The Room, Wiseau thought it was his moment to get a word in.
Unfortunately for him, Franco pushed him back when he reached for the microphone. Franco, who portrays Wiseau in the film, would go on to impersonate Wiseau's signature accent, before thanking him at the end of his speech. "'Golden Globes, so what, I'm not invited. I know they don't want me, guy with accent, long hair, so I show them. I don't wait for Hollywood, I make my own movie,'" he said, recalling one of Wiseau's stories from almost 20 years ago. "I am very happy to share this moment with him today."
Of course, everyone on Twitter was upset by the move, demanding to know what it was he was planning to say. The Los Angeles Times reports that the message he planned was simple, and quite inspiring. "If a lot of people loved each other, the world would be a better place to live," Wiseau explained. He added, "See The Room, have fun, and enjoy life. The American Dream is alive, and it's real." 
It's unclear why Franco denied Wiseau the chance to speak his mind, but maybe there was a strict time constraint on speeches this year; indeed, the music did began to play Franco off. Regardless, it's a bummer we didn't get to see him offer a few inspiring words onstage, especially considering Franco went through the effort to bring him to the event and invited him to join him in accepting the award.