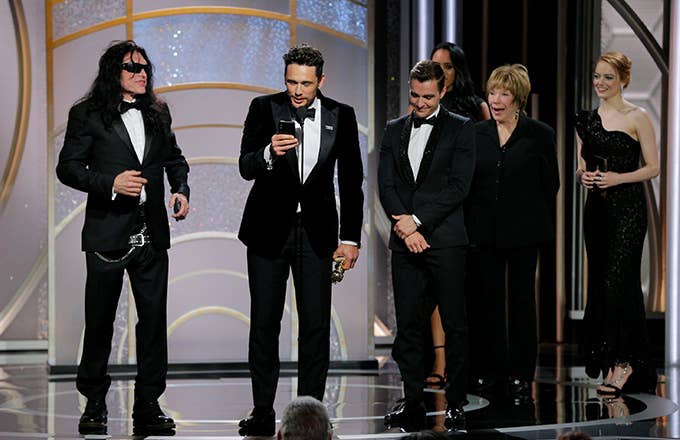 Award show season has officially begun and after an eye-opening last few months in Hollywood with dozens of entertainers coming forward with their experiences with sexual assault in the industry and the subsequent resurgence of the #MeToo movement, talk about who may or may not arrive in all black is just as much a part of the conversation as who will or won't take home the hardware on Sunday. With reports that stars would bring activists such as the #MeToo movement's founder Tarana Burke onto the red carpet, it was no surprise that the pre-show coverage and conversations focused much more on these important conversations as opposed to just who was wearing who than in years past.
The 2018 Golden Globes took over NBC and our collective social media timelines tonight and whether you watched it live, watched it later or just waited for your faves to tweet about it (memes > acceptance speeches), we did the heavy lifting for you to round up the best and craziest moments of the night.

Black On The Red Carpet
It was reported in late December that stars arriving at the awards would be dressed in black in a show solidarity with the actors who have accused heavyweights like Harvey Weinstein of sexual misconduct, but it wasn't clear how much would take the dress code on. Well, from the pre-show coverage it was clear it was a sea of black, with all but three guests showing up in all-black outfits. 

Seth Myers' Opening Monologue
Opening monologues on award shows have always had a way of making jokes out of otherwise uncomfortable Hollywood fodder, and this year was no different. Myers took aim at everyone from Donald Trump to Kevin Spacey in the show's opening moments and didn't let up throughout. He saved his most scathing comments for Harvey Weinstein, who was obviously noticeably absent from the ceremony, saying his appearance in a memorial montage 20 years in the future will be met with booing.
Tommy Wiseau's Mic Grab
If anyone looked like a fish out of water at the ceremony tonight, it was the inspiration for the film The Disaster Artist, Tommy Wiseau. Portrayed in the film by James Franco, the pair went on stage to accept the award for Best Actor in a Musical or Comedy along with other members of the film's team. Before Franco could get a word in, Tommy tried to swoop in with his own speech but was stiff-armed by James who went on to thank Wiseau in his acceptance anyway. Yikes, though.
Aziz Ansari's Surprise Win
Master Of None might be a Netflix hit, but it was up against some pretty stiff competition in the Best Actor In A TV Comedy category. When Ansari was making his acceptance speech, he was surprised himself; telling the audience that the predictions he had seen online had all pegged him to lose the award.
Natalie Portman's Nominee Jab
With so much conversation about diversity and the roles of women in Hollywood, it was hard to ignore the continued exclusion from of women from historically male-dominated categories such as Best Director. Before opening the list of potential winners at the podium alongside Ron Howard, Portman prefaced the list by adding "Here are the all-male nominees," drawing a reaction from the audience before the awards eventually went to Guillermo Del Toro.
Guillermo Del Toro's (Almost) Cut Off Speech
A mainstay of award shows has always been wrap-up music, letting winners know they're running a bit long, but director Guillermo Del Toro wasn't having it. After winning the award for Best Director for his film The Shape of Water, the familiar music started to play over his words before he exclaimed: "Lower the music guys. It's been 25 years. Give me a minute!"
To see a full list of the winners at this year's Golden Globe Awards, check out our post here.