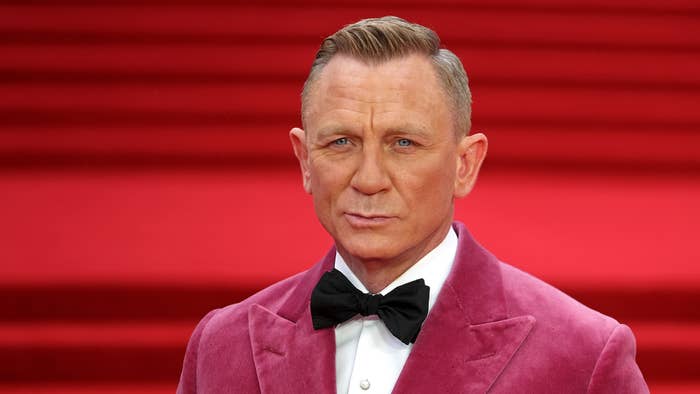 The first reactions to No Time to Die are in, and people are pumped. 
After a series of lengthy delays on account of the COVID-19 pandemic, Daniel Craig's final James Bond movie is finally set to land in U.S. theaters on October 8. On Tuesday, the long-awaited spy flick had its world premiere at the Royal Albert Hall in London, and screened for press in the U.S. And based on early reactions and reviews, it was well worth the wait.
The Cary Fukunaga-directed film has a sparkling 88 percent fresh rating om Rotten Tomatoes based on 56 reviews, many of which praise Craig for his masterful final bow as bond.
"With his fifth movie as 007, Craig is so extraordinary he leaves only scorched earth behind. There will be other Bonds for those who want them. For everyone else, there's Craig," Time Magazine critic Stephanie Zacharek said in her review. In a review for Variety, Owen Gleiberman called it a "terrific movie" that makes great use of both classic spy movie tropes and more modern sensibilities. 
There were, of course, some less enthusiastic responses. The A.V. Club's A.A. Dowd called the 25th film in the series "a sentimental, unsatisfying end to the Daniel Craig era of James Bond."
Over on Twitter, the reactions were pretty gleaming, as is often the case.
"Classic Bond, classic villain, classic gadgets & a story that seems to question how much we still need James Bond to save the day," Fandango's Erik Davis tweeted. "Terrific writing & stunning direction from Cary Joji Fukunaga. Loved every second! A perfect finale for Daniel Craig."
Film and TV critic Tessa Smith called No Time to Die "a great farewell to Daniel Craig," but noted more of Rami Malek in his villainous role could have helped. "Yes it's long but whenever it felt like it was about to drag, it jumped right back in with adrenaline," she added.
Clayton Davis, the Awards Editor at Variety, praised the film as the "finest" of Craig's films as Bond. "No Time to Die is effective in action, emotional beats, and once again, an artisan mastery helmed by Linus Sangren, Tom Cross and the sound team," he said. "Highly enjoyable & I'm NOT a typical Bond enthusiast." 
Check out more early reactions to the film ahead of its release below.