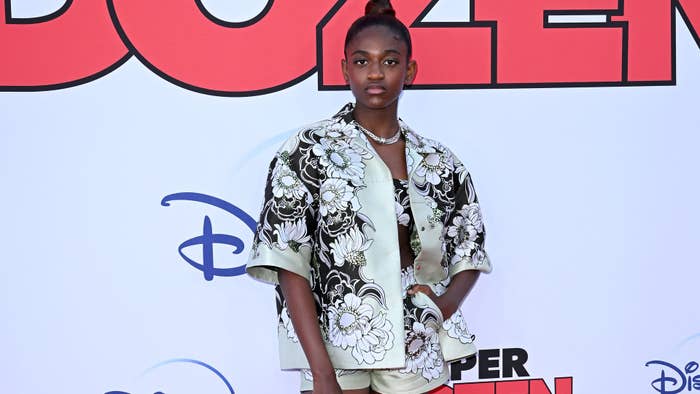 Zaya Wade is opening up about her journey. 
The daughter of NBA legend Dwyane Wade spoke with People—in a joint-interview with stepmother Gabrielle Union—about coming out as transgender in 2020, and how online beauty advice has impacted her.  
"As a trans person, once I came out, there was a lot of hateful comments about how I should grow my hair out long or fit into a certain version of femininity, even though that's not true at all," the 14-year-old said. "That kind of advice is just trying to break you, but don't let it."
Zaya continued, explaining that the most important advice her NAACP Image Award-winning stepmom bestowed upon her was "telling me that not everyone in the world and in the media is going to be truthful about what you look like."
"I don't have to believe everything they say," she said. "The only thing I have to believe is what I feel and what beauty means to me. I think focusing on inner beauty is the most important."
As for Union, who recently starred in the Disney+ Cheaper by the Dozen remake with Zach Braff, the actress says she and her husband stress the value of "internal beauty" to their children and that "there is no one way to be a woman or to be feminine."
"There are a billion ways to exist because there are billions of people and each person has the ability to decide for themselves how they want to exist in the world and how they want to move through the world," the actress said. "We talk to her about resisting anti-Blackness and not centering Eurocentric beauty ideals."
At the Met Gala, Dwyane spoke to Variety about his daughter, and said while parents try to "find our mini-mes and we try to make them just like us," it's important to let kids be who they are. 
"[Think of] the moment when you were in the hospital and you grabbed your daughter, and you looked at your daughter," Wade said. "All the things that went through your mind and all the emotions that went through your mind. And how much love fills your heart at that moment. Don't let that ever leave you, no matter what. … It's our job to help mold them and help try to push them in the right places that they want to go, but just remember that moment, what you said in that hospital the day that they were born."