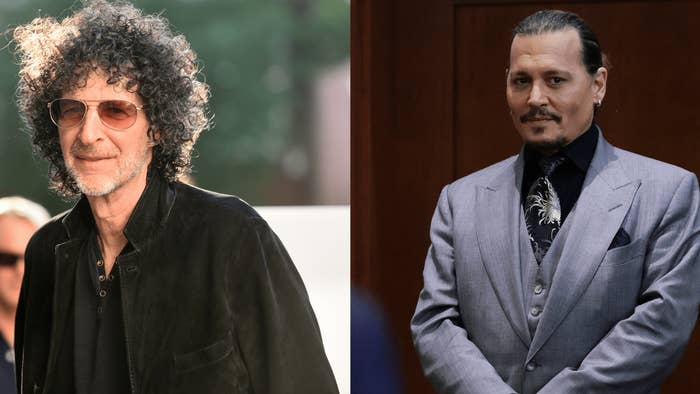 Howard Stern is claiming that Johnny Depp is "overacting" during his defamation case against ex-wife Amber Heard.
The SiriusXM radio host opened up about his feelings on Depp and Heard's accusations against each other on air, as well as what he thinks of Depp's decision to sue his former partner over a column she wrote for the The Washington Post, in which did not outright name him when she labeled herself as a victim of domestic abuse.
"The reason he wanted that on — he wanted it televised [because] that's what narcissists do," Stern said, per Variety. "They think they can talk their way out of anything. I think Johnny Depp is a huge narcissist and what I mean by that is — he figured, 'I'll put this on TV and because I'm so persuasive and because I'm so smart, I'm such a wonderful guy.'"
Stern then argued that Depp was "so overacting" during the televised trial, which started on April 11, and said he "shouldn't be putting this on TV in any shape." He then argued that the publicity is "not going well for anybody," and that Heard and Depp—whose cross-examination ended on Monday— sound like "two battling children." Heard, who has accused Depp of sexual assault during the trial, will testify in the coming days, according to Variety. 
"It's just coming off really badly," Stern added. "Johnny Depp testified in court for two days last week. Two days. Think about that, lots of room to embarrass yourself. Two full, fucking days! First of all, his difficulty in speaking the English language is fantastic…And the accent. First of all, isn't he from like the South of the Midwest? Johnny Depp was born in Kentucky. Does that sound like a guy from Kentucky?"
Monday's court happenings included Depp's admission that he hoped to give his Pirates of the Caribbean character Jack Sparrow a "proper goodbye" before accusations and Disney temporarily pulling the plug on the franchise. 
"My feeling was that these characters should be able to have their proper goodbye," Depp testified, adding that the sixth Pirates film is in "dangle mode." "There's a way to end a franchise like that… I planned on continuing until it was time to stop."
As The Guardian reports, Depp also was presented with audio that was allegedly recorded of him threatening Heard with violence. In the clip, he apparently says, "The next move, if I don't walk away … it's going to be a bloodbath, like it was on the island." He later spoke on his public perception after the allegations of abuse, which he has denied. 
"It hurt, like somebody hit me in the head with a two-by-four," he said in court. "Even if I tried to do an interview to explain myself, it turned into a hit piece."
While trying to recollect memories of his movies in court, Peoplereports that Depp came up short, and his response led to laughter from the room. Judge Penney Azcarate then warned the courtroom to maintain order. 
"I'm so pathetic when it comes to knowing what movies I've done," Depp said. "I'm sorry. I just, I don't watch them. I feel better not watching them. What was the question again?"