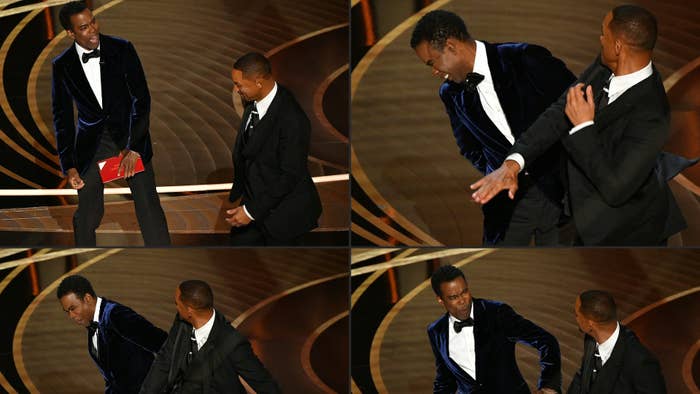 Variety has obtained a letter the Academy of Motion Picture Arts and Sciences sent out to members about their review into the Will Smith slapping incident.
As you likely know by now, the King Richard actor slapped Chris Rock across the face at the annual awards show after the comedian made a G.I. Jane joke about Jada Pinkett's hair. The 50-year-old actress has previously opened up about having alopecia.
"Sunday's telecast of the 94th Oscars was meant to be a celebration of the many individuals in our community who did incredible work this past year. We are upset and outraged that those moments were overshadowed by the unacceptable and harmful behavior on stage by a nominee," the Academy's letter, which was signed by Academy CEO Dawn Hudson and President David Rubin, began. 
It continued, "To be clear, we condemn Mr. Smith's actions that transpired Sunday night." The Academy added that the review process into what went down on Sunday "will take a few weeks."
You can read the letter in full below.
It's not the first time that the Academy has commented on the much-talked about moment. On Monday, March 28, the organization sent out a statement condemning Smith's actions.
"The Academy condemns the actions of Mr. Smith … We have officially started a formal review around the incident and will explore further action and consequences in accordance with our Bylaws, Standards of Conduct and California law," the statement read. 
The Los Angeles Police Department also released a statement following the slapping incident, writing, "The individual involved has declined to file a police report. If the involved party desires a police report at a later date, LAPD will be available to complete an investigative report."
A day after slapping Rock, Smith took to social media to apologize to the Tamborine comedian, as well as the Williams family and the Academy. 
"I would like to publicly apologize to you, Chris," Smith wrote. "I was out of line and I was wrong. I am embarrassed and my actions were not indicative of the man I want to be. There is no place for violence in a world of love and kindness."