Wale Joins Protest to Protect Go-Go Music in D.C.
Earlier this month, Wale hosted his fifth annual WaleMania event in NYC.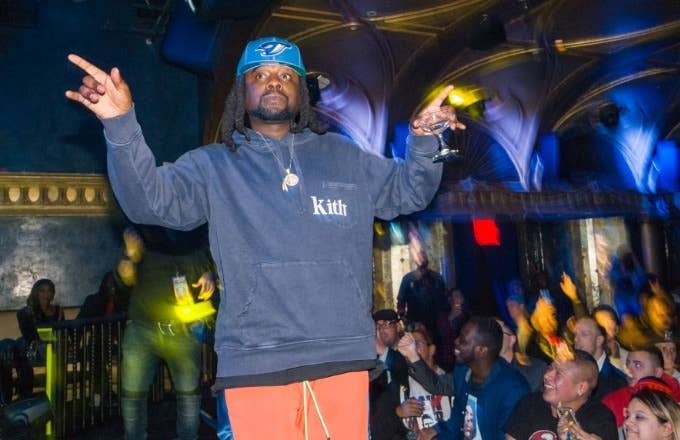 Getty
Image via Getty/Steven Ferdman/WireImage
Wale showed his support for D.C. go-go at a protest event Tuesday night.
The event, which WJLA notes doubled as a free concert, was put together by local organizers in less than 24 hours.
"[Go-go music] made me the man that I am today, and I will never let it go and I'm going to do whatever I can to keep that tradition alive," Wale said of the region's current controversy, brought on by a local business owner being forced to stop playing music after T-Mobile was allegedly threatened with legal action by a nearby resident.
Don Campbell, who owns a Metro PCS, said he was told to cease he longstanding tradition of playing go-go music by Metro PCS owners T-Mobile. Per DCist, Campbell had been playing go-go outside the shop since its opening day in 1995.
Wale was joined Tuesday night at the Justin Johnson-arranged event by Flex Kartel, Biggs Cooley, Phil Ade, and more. In a tweet Wednesday afternoon, Wale pointed to event organizers as those in need of the praise for its success:
T-Mobile CEO John Legere said Wednesday he had "looked into this issue" personally, and believed that the music should be allowed to continue. "[We] are proud to be part of the Shaw community—the music will go on and our dealer will work with the neighbors to compromise volume," Legere said.
Earlier this month, Wale marked his fifth consecutive year as host of the WaleMania throwdown. The sold-out event included a live podcast, fan fest, and show. Smoke DZA and Flatbush Zombies were among those Wale welcomed to the stage for the wrestling celebration.