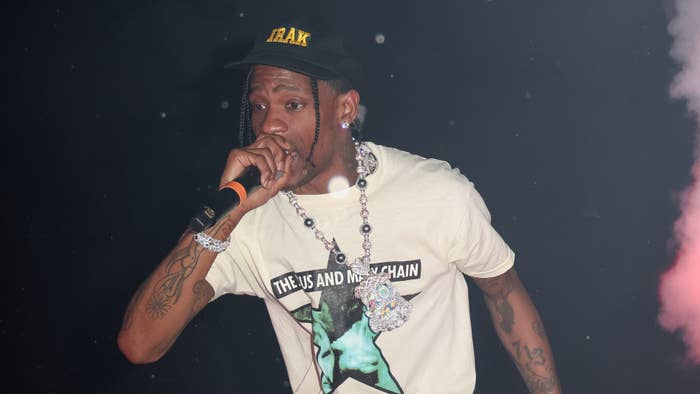 UPDATED 3/1/23, 3:41 p.m. ET: Travis Scott's team is attempting to clear his name.
Hours after he was accused of assaulting a sound engineer at an NYC nightclub, the rapper's attorney and rep told TMZ that the reports were wildly exaggerated.
"While this is clearly a misunderstanding being blown out of proportion by clickbait and misinformation, we are actively working with the venue and law enforcement to resolve and set the record straight," attorney Mitchell Schuster told the outlet. "We are confident our client will be cleared of any wrongdoing."
Richie Romero, managing partner of Club Nebula echoed the comment, and said Scott's surprise DJ set was nothing short of "a great night."
TMZ has since obtained video of Scott standing behind the DJ booth just moments before the alleged assault. The footage shows the rapper in a seemingly heated exchange with an unidentified individual. Scott then appears to push the man, before mouthing, "Back the fuck off."​
A witness told TMZ that Scott had become upset after someone had turned down the volume of his playlist. Check out the video below.
See the original story below.
Travis Scott has reportedly been named as a suspect of an investigation into an alleged punching incident at a club in New York City.
According to a report from TMZ, the alleged incident took place in the early hours on Wednesday at the Nebula club. Scott, specifically, is accused of having punched someone at the club. He's additionally accused of damaging property, with TMZ saying the property in question was "possibly" a phone.
A separate Page Six report, meanwhile, includes more details, including a reported estimate of $12,000 in terms of total property damage. That figure, the gossip publication further alleged, included damage to a video screen and a speaker at the venue.
As for the person alleged to have been punched, several reports claim this individual was working as a sound engineer at the time of the incident.
At the time of this writing, Scott had not addressed these allegations publicly. Complex has reached out to a rep for comment. This story may be updated.
As seen in the clip above, Scott was brought out by Don Toliver during the latter's NYC performance this week. Toliver is currently celebrating the Cactus Jack and Atlantic Records release of his new album Love Sick, which was given the Scott-featuring deluxe treatment on Tuesday.
This coming weekend, Scott is set to perform at Rolling Loud California. He's joined on the lineup by fellow headliners Playboi Carti and Future.