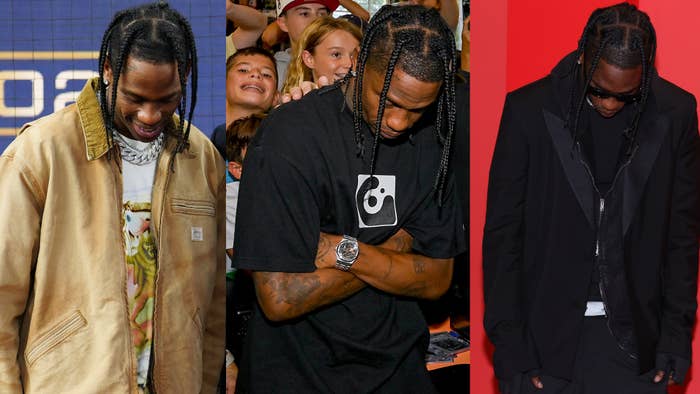 Travis Scott is aware that some fans think his tendency to look to the ground in photos is itself an intentional pose, but he insists that's not the case.
In a new GQ interview as part of the publication's annual Men of the Year proceedings, Scott was asked about his fondness for looking down when photographed in non-performance settings. Specifically, per writer Chris Heath, the inquiry was spurred by a then-recent photo Scott had appeared in alongside Tom Brady and Kevin Hart.
"Yeah, my head's down. I'm not a picture guy," Scott said. "I just put my head down because people are just snapping away."
Scott acknowledged that some argue this constitutes its own pose, though he insists he's "really just looking down" in such photos.
"No, just looking down," he said. "And then when it's over, we can laugh and do whatever again."
Scott is closing out 2023 on an undeniable high note, with his blockbuster Circus Maximus Tour set to keep him on the road through at least January of next year. Utopia, the album at the center of Scott's latest road experience, was recently nominated for Best Rap Album at the 66th Annual Grammy Awards.
Joining Scott's Astroworld follow-up in the category are Drake and 21 Savage's Her Loss, Killer Mike's Michael, Metro Boomin's Heroes & Villains, and Nas' King's Disease III.
Leading up to the nominations announcement, Scott linked with Kid Cudi and Pharrell for the new track "At the Party," available here.