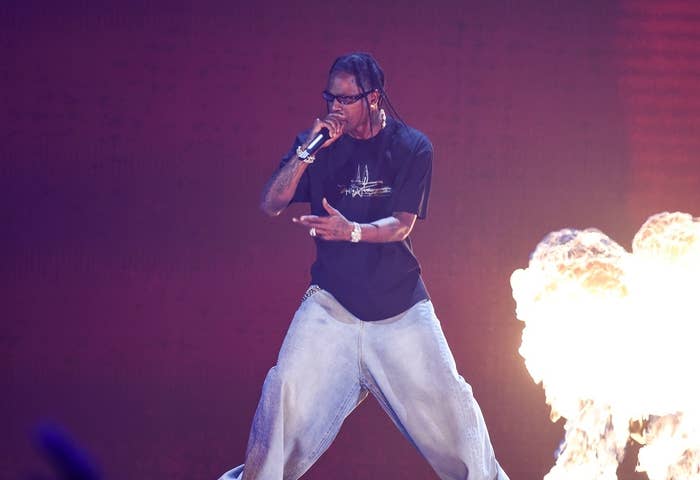 Travis Scott turned up the UTOPIA energy with daughter Stormi Webster and Playboi Carti in Los Angeles on Sunday night. Scott is currently on the 29-date Circus Maximus Tour, which ends Dec. 29 in Toronto.
At SoFi Stadium, Scott brought out Stormi during a performance of "Mafia" atop a floating platform, although the 5-year-old was visibly nervous and didn't rap alongside her dad. Stormi, who Scott shares with ex-girlfriend Kylie Jenner, made her song debut on "Thank God," the second track on UTOPIA.
Later in the evening, Playboi Carti joined Scott for their collaboration "FE!N," which also appears on his fourth studio album. The sold-out crowd launched into a frenzy at the sight of Carti, who wore an all-black fit for the occasion.
Scott also made time to acknowledge that the SoFi concert was his biggest headlining show to date. "I never thought of this dream coming true. … This night has given me beyond chills," he told the crowd, per Billboard.
Reaching 496,000 equivalent album units in its first week, UTOPIA was the second rap album to debut at No. 1 on the Billboard 200 this year behind Lil Uzi Vert's Pink Tape. Also featured on the album are Drake ("MELTDOWN,"), Beyoncé ("DELRESTO (ECHOES)"), Young Thug ("SKITZO"), Westside Gunn ("Lost Forever"), Kid Cudi ("LOOOVE"), and more.
On Friday, Cudi partnered with Scott and Pharrell Williams on their new collaboration "At the Party," slated to appear on Cudi's upcoming album, Insano.