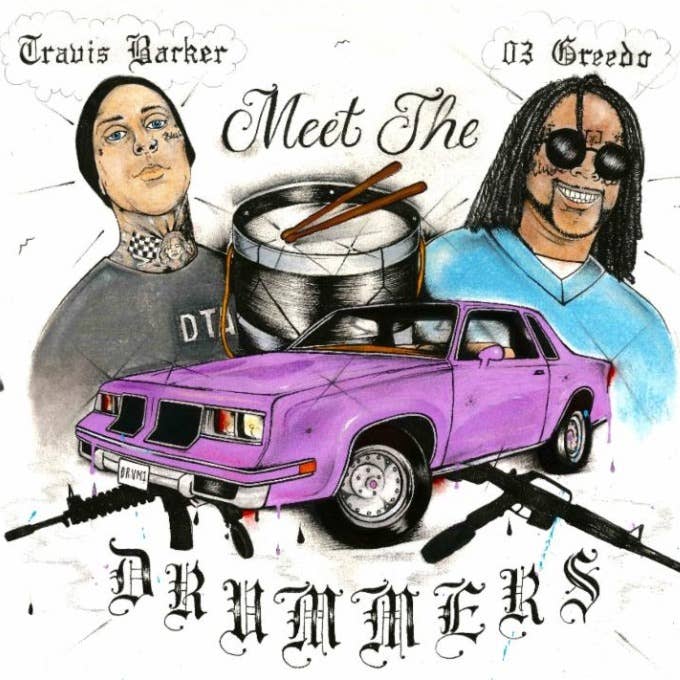 Friday, a recently teased 03 Greedo and Travis Barker collab project was mercifully made available for global consumption.
In a statement earlie this week , Greedo said the five-tracker will "shock a lot of people" when it drops. 
"Recording with Travis was work just like any other time, with me going in on every song," Greedo said of the sessions, which saw the blink-182 drummer further expanding his production prowess. "Once we were done with the project and had a friendly relationship was when I really got to appreciate the moment [of working with someone I grew up a fan of]. It trips me out still when I talk to him while I'm locked up. He checks in on how I'm doing. It blew my mind when I put him on my visiting list to come see me."
The two already have plans to craft more music together, with Greedo confirming that he's enlisted the recent Lil Nas X collaborator for his next solo album. "And I'm sure we'll do a full project together later on too," he said.
Above, stream the first track to be released from the duo's Meet the Drummers project, "Cellout." The full project can be streamed below via Apple Music:
Travis Barker, Mark Hoppus, and Matt Skiba are currently on the road for the joint blink-182 and Lil Wayne tour ahead of the release of the trio's new album, their second without founding member Tom DeLonge. The album, which may or may not be titled Bojmir, is expected in September. As confirmed in a Zane Lowe interview earlier this week, the album will indeed include a Lil Uzi Vert-assisted track produced by the Neptunes.