Don't Ask Blink-182 to Act Their Age
After Tom DeLonge's departure to investigate UFOs, the beloved pop-punk band returns with a new album and lineup.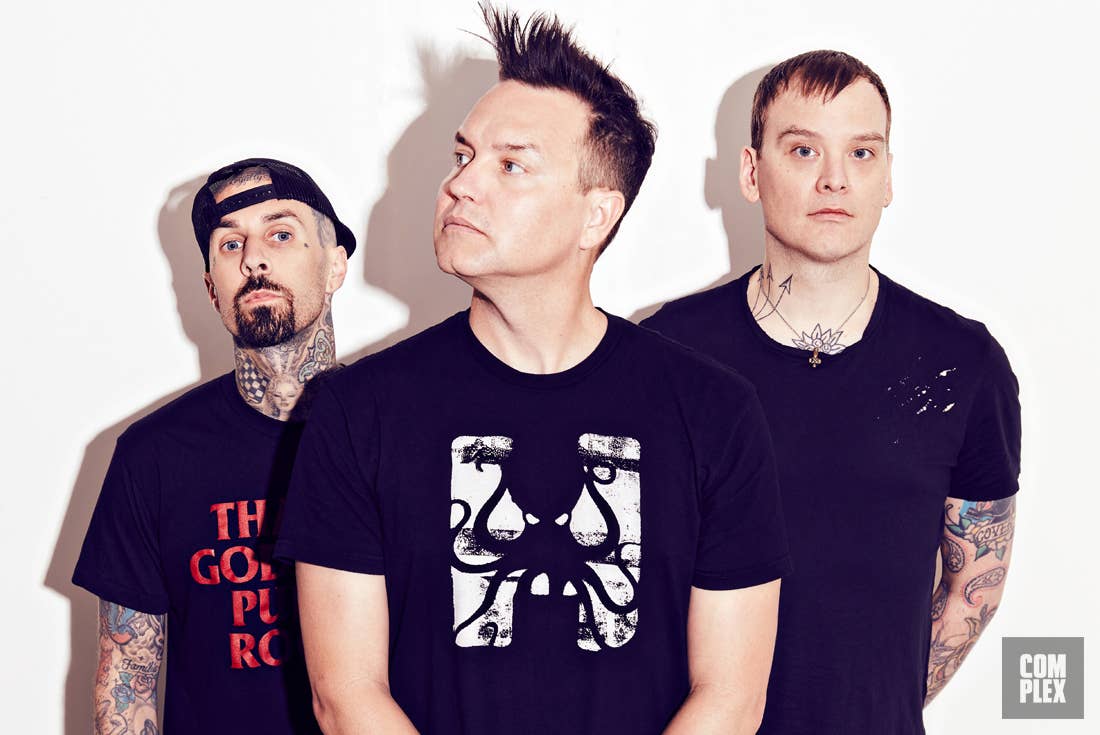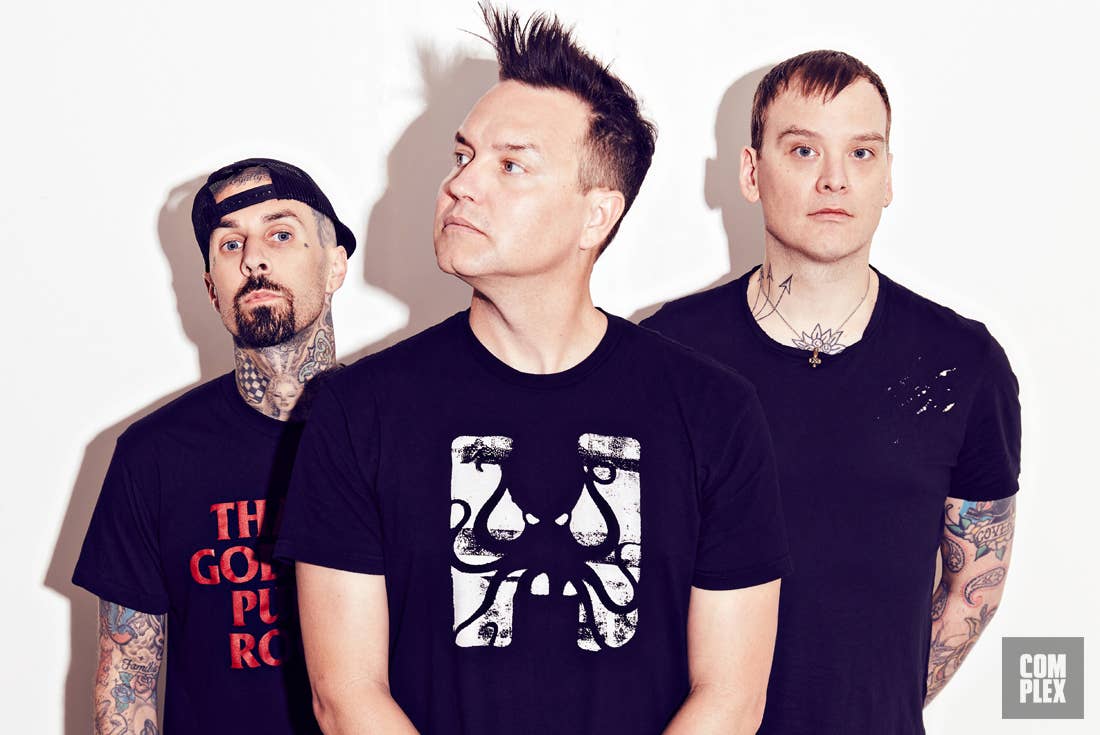 In 2016, it's awfully hard to get Blink-182 to undress.
"You're really all for us getting naked, huh?"
I've casually brought up the whole naked thing for the third time during my interview with Mark Hoppus, Travis Barker, and Matt Skiba, but I'm met with jaded reluctance, and not just because we're sitting in an ugly conference room at New York's London Hotel.
In the '90s, the pop-punk trio had no problem going bare. They streaked in their music video for "What's My Age Again?" and subsequently stripped down for a live MTV performance in 1999 (while the band went shirtless, Hoppus wore nothing but socks and sneakers). The album, Enema of the State, featured porn star Janine Lindemulder on the cover—a sexy nurse, flashing a salacious smile—and went on to become the record that soundtracked so many coming of age stories. When I tried to buy the album at a Sam Goody at the tender age of nine, my mother took one glance at the cover and, with horrified disgust, gave me a stern, Asian-mother "No."
Now in their 40s, Blink-182 isn't really doing the kinds of things that would give mothers a heart attack anymore. On July 1, they release their 7th studio album, California, full of similar pop-punk anthems, but not as rated R.
"Well, we still get naked in rehearsals," Barker, 40, jokes.
"It's just no one's there to see it."
The whole nudity thing is brought up because of their new 17-second-long single, "Built This Pool," which contains just one verse: "I wanna see some naked dudes/That's why I built this pool." That they would release a 17-second-song, about naked dudes of all things, as a single (and post it on YouTube as a 10-hour loop) seems like the kind of trolling on-brand with the Blink-182 persona we've come to love. The sound is reminiscent of old-school Blink as well: loud, angular guitars, thunderous drumming, tongue-in-cheek lyrics.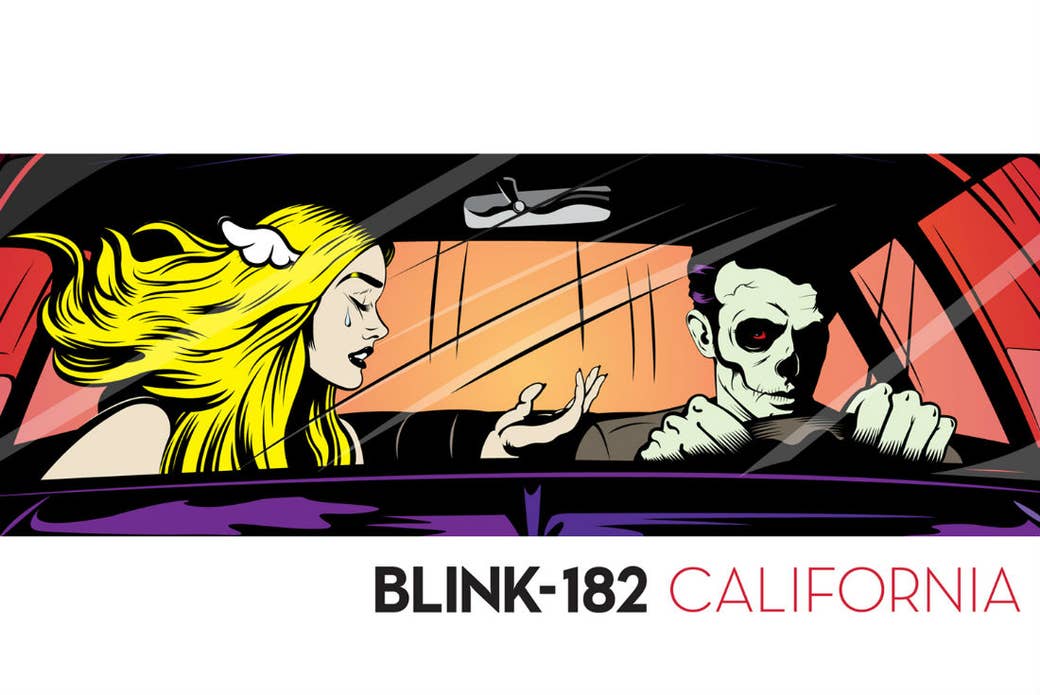 It's been 21 years since the band's debut, Chesire Cat, but Blink-182 is still not too old for good times and good humor. Take Barker's outfit: a backwards cap, Vans skate shoes, ripped jean shorts hanging midway down his calves, and a black t-shirt that reads, in bold, red letters, "THANK GOD FOR PUNK ROCK." Good ol' Travis Barker.
In many ways, it's almost eerie how much Blink-182 hasn't changed. Sure, they've aged, but if you squint your eyes hard enough, they basically look the same as they did 20 years ago. Barker and Hoppus, now 44, have maintained their skater style and silhouettes. But Tom Delonge looks nothing like Tom Delonge, and that's because it's not Tom DeLonge; the third member of Blink-182 has been replaced by Matt Skiba, 40, frontman of Blink-affiliated pop-punk band Alkaline Trio.
There's been quite a bit of drama surrounding DeLonge's departure early last year. The singer/guitarist, without warning, left the band "indefinitely," then backtracked and claimed, "I never quit the band" after a press release announcing Skiba as his replacement went around. This led to Hoppus and Barker calling him "ungrateful and disingenuous" in an interview with Rolling Stone. Then, in April of this year, DeLonge wrote a lengthy Facebook post stating: "I met with Mark yesterday, and Travis the week before.... I actually talk to Travis almost every day, now. In an odd way I'm almost closer to him more now than ever." After his back and forth about leaving the band, it's natural to approach his word with a spoonful of skepticism. Sure enough, Hoppus went on record to say that he and his old bandmate never actually met up.
"I can't speak for Tom, but I think he's pretty adamant about his passion with UFOs. And he supports us doing our thing with Matt."—Travis Barker
Barker's a little more ambiguous: "I don't talk to him every day, but I stay in touch," he says. Just days before Blink-182 and I meet up, DeLonge's back in the headlines for the real reason he left the band: He wanted to commit himself full-time to researching UFOs, and being in a band wouldn't allow him the time. (Listening to their 1999 track "Aliens Exist" now has a whole new meaning.)
"I mean, I can't speak for him, but I think he's pretty adamant about his passion with UFOs," Barker says. "And he supports us doing our thing with Matt and everyone's happy." As for their personal beliefs on life beyond this world, all three have the same answer: "I don't know." It's easy to make a mockery of DeLonge's extra-terrestrial passions, and the band seems careful not to sour the relationship again by accidentally poking fun at their friend's calling. They talk about him with distanced, mutual respect.
It is curious, however, that mere hours after my conversation with the band, DeLonge posts this on his Facebook: "Quitting the band to search for UFOs? Hahhaha WTF is wrong with you media. I'm actually talking to Travis about us right now... Never did quit, remember?"
Not only did Barker confirm his departure was for UFO-related reasons, but DeLonge is definitely not an active member of the band. There's Skiba sitting in front of me, instead of DeLonge, and when I ask if the latter has ever, even remotely, shown interest in rejoining the band, Barker shrugs and responds, "Honestly, it hasn't even been brought up." (DeLonge refused to comment when I reached out for clarification.)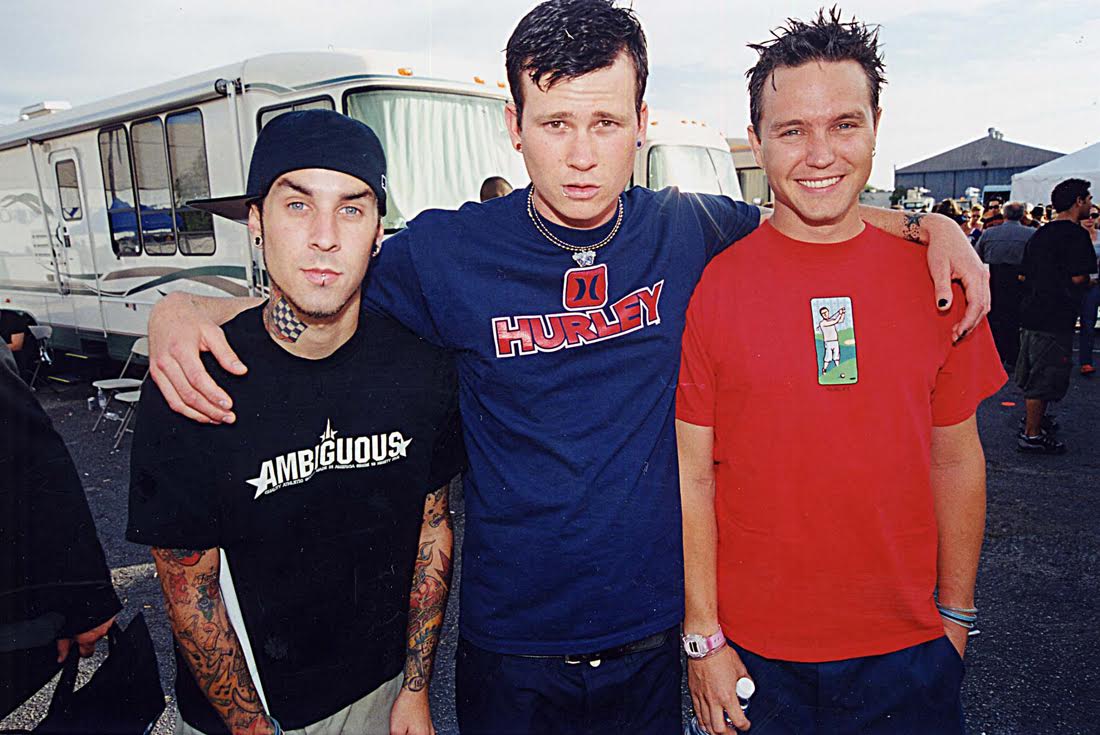 Of course, it's not easy to be Skiba in this situation. Blink-182 still has a fiercely loyal fanbase, and DeLonge had been a favorite member for many. It's hard for Skiba not to feel like a step-dad to Blink fans, even though he and Blink go way back (Alkaline Trio met Blink-182 right around the time 2001's Take Off Your Pants and Jacket came out, Skiba, recalls). Skiba is the softest spoken of the bunch, but that seems more like a reflection of his character rather than him operating under the assumption that he's just "filling in" for someone else's band. There were plenty disgruntled fans in denial of DeLonge's departure, sure—even some who inserted the ex-member into the band's new video, "Bored to Death," but Skiba doesn't look at it like having "big shoes to fill," he says. He wrote the songs on the new album with Hoppus and Barker, and says he felt comfortable in having as much say in the creative process as either of them. "I think that when [Tom] left he kept his shoes on, I came in wearing mine. I try not to overthink it and luckily we have similar voices."
Blink hasn't completely hardened to nostalgia-hungry fans, though. It's a collective "of course" when I ask if they still loving playing the hits, such as "All the Small Things," for the crowd. But they also refuse to become a money-milking tour machine, which they could easily do if they really wanted to. Blink-182 went platinum with 1997's Dude Ranch before going triple platinum with 1999's Enema of the State. Their 2001 album Take Off Your Pants and Jacket (which included hits like "The Rock Show" and "First Date"), shooting up to No. 1 on the Billboard 200 album chart for the first time.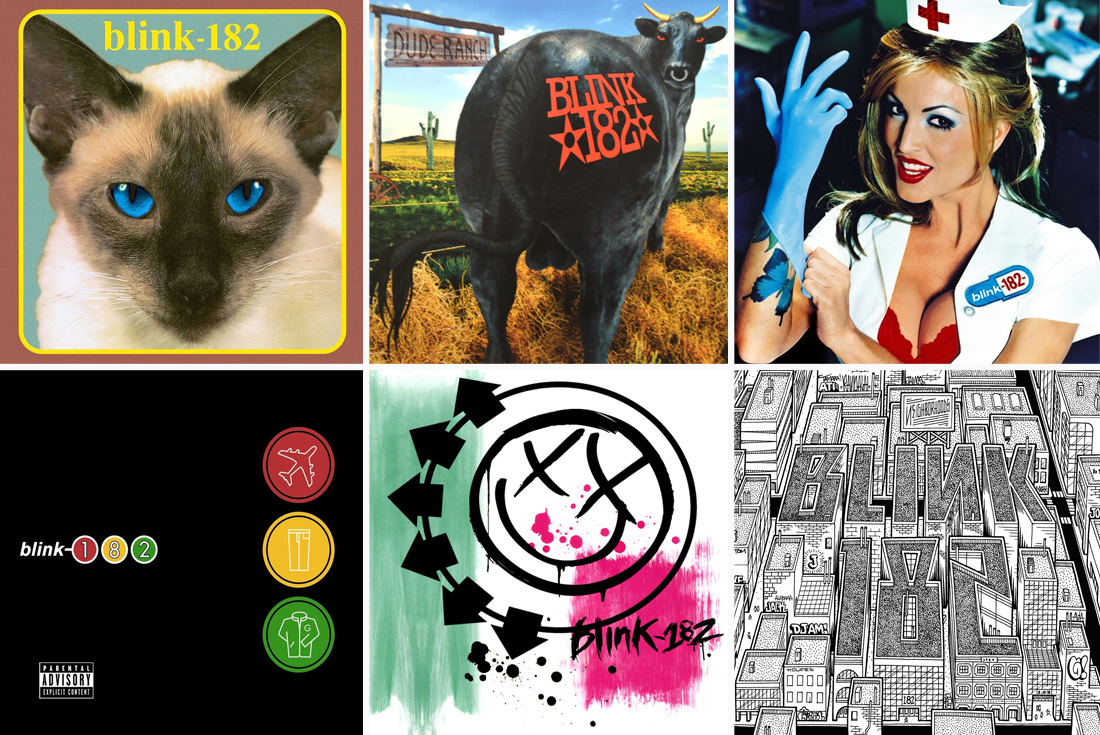 But they're not flexing off those numbers. "We don't think that if we go on tour we're definitely going to sell tickets," Hoppus says. "I feel like we have to continue to earn that every time we go out and play a show and every time we go out and write a song. When Travis and I were talking about continuing Blink-182, the one thing that was very important to us is that we never wanted to become a greatest hits band that just sits back and is like, 'Oh, we brought all these cool songs back in the day, we'll just keep doing those.' We love playing the old songs and we love the history of Blink-182, but it's just not that fun. It's not writing new stuff."
Barker agrees. "You see bands who go out and are like, 'This is a new song!' and the crowd cringes. Like, that sucks. You don't want to be that band. You've got to be passionate about what you're doing in order to keep creating great music that your fans love."
"Every time we release an album people say, 'Is this the album where Blink-182's finally grown up?'"—Mark Hoppus
The best part of California is that it doesn't sound like the shitty post-hiatus, post-prime music that bands tend to make when they're older. It sounds like it could have easily been an Enema follow-up, even down to the part where they're singing about cute girls and teen angst.
"Is it weird being married and singing about cute girls?" I ask.
Hoppus laughs. "No, it's not at all. Everybody has their past. I'm happily married for 16 years now, but writing songs about how you felt when you first fell in love or thoughts that you had, I think they're pretty universal, and they're experiences that everybody goes through. It's only natural, even years and years later, to think about things."
Travis Barker reminisces, briefly taking off his cap to run his hand over his head. "I used to be a dumpster in many ways," Barker says.
"We would say, 'Okay if we each got one burrito from Taco Bell, we can have 40 dollars in gas, which will probably get us to the next city,'" Hoppus chimes in.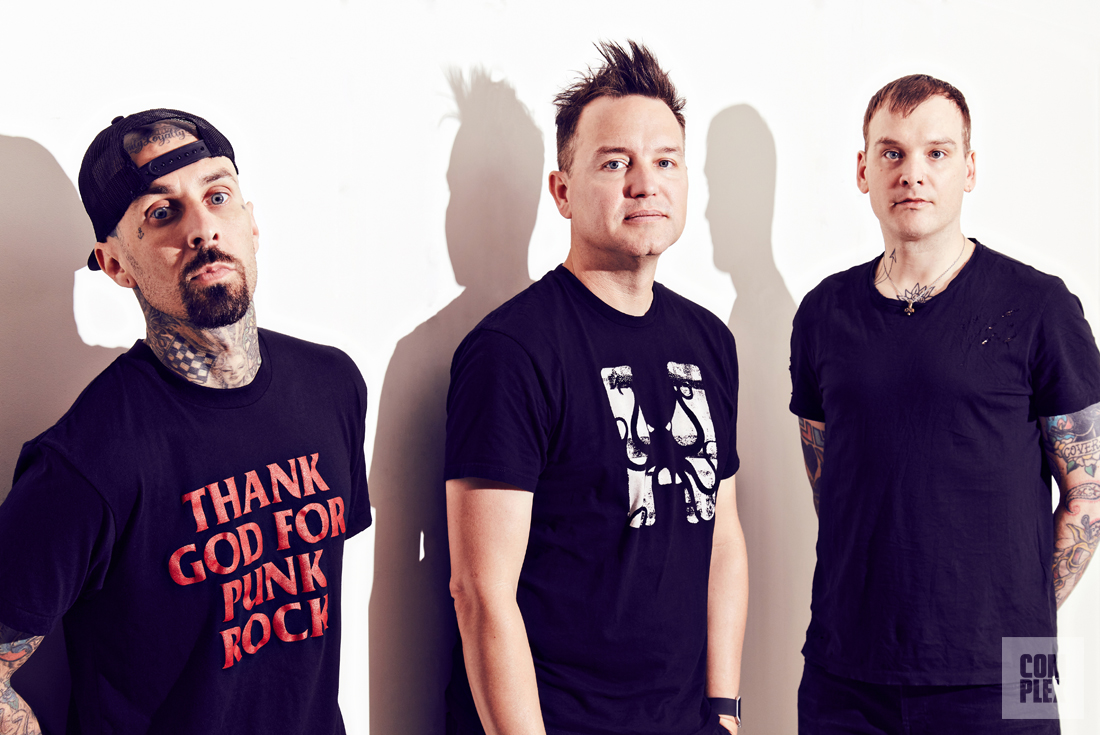 Of course, some things have changed. They're staying at fancy hotels, they're eating better, they're more responsible. Barker eats vegan now, and as a recovering Oxycodone addict finding new life after a traumatic plane crash in 2008—something he wrote about in length in his recent memoir—he tends to steer clear of parties if he can. "I kind of stay away from that. When I'm around it I still have user dreams and weird stuff, which is just a reminder that I love being sober at this point in my life," he says. "I've been coming back to the hotel and running instead. I'm an addict, so now I'm addicted to working out and boxing and exercising. And of course, above all, playing the drums. I'll even get back on the bus and practice."
Barker isn't the only one who has been given new life; all three of them have, especially Skiba. With California and the new lineup, Blink-182 is hoping to write new history and draw in new fans. But the spirit they brought to Blink-182 back in the '90s hasn't gone away.
"Every time we release an album people say, 'Is this the album where Blink-182's finally grown up?'" Hoppus says. "And we never have. We are in a state of suspended youth, luckily, because of what we do. We get to play in a band and do what we love, hang out with our friends, travel the world, and see different people. We don't have to grow up. I don't think people have to. It's all a state of mind. We've said that since day one. I still pretty much dress the same way I did 20 years ago, listen to the same styles of music I did 20 years ago, and make the same dumb jokes I did."
That's when the whole getting naked in public thing gets brought up again. "I enjoy my nude time," Skiba says. "But I think you hit a certain age, especially when there's kids—I'm a 40-year-old man. Nobody wants to see that shit."