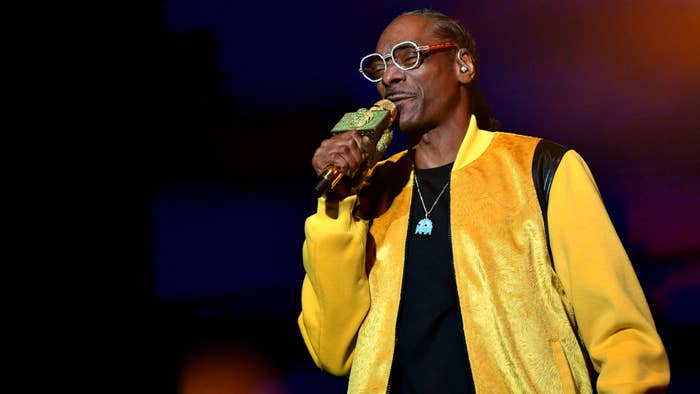 Snoop Dogg is among the artists assembled for the recently unveiled documentary Dionne Warwick: Don't Make Me Over, which sees directors Dave Wooley and David Heilbroner giving viewers unparalleled insight into the ongoing legacy of the long-celebrated singer and pop culture icon.
Per CNN, which rolled out the documentary in broadcast form on New Year's Day, Snoop was invited to Warwick's house alongside Suge Knight, among other artists, early in his career for a meeting during which he felt he was "out-gangstered" by the singer.
"She was checking me at a time when I thought we couldn't be checked," Snoop said of the early morning meeting, which was spurred by Warwick wanting to have a discussion about lyrics she considered to be misogynistic. "We were the most gangsta as you could be but that day at Dionne Warwick's house, I believe we got out-gangstered that day."
As detailed in the Toronto International Film Festival-premiered doc, Warwick at one point told Snoop and other guests to refer to her as a "bitch" and also urged them to consider that they might "grow up" and think differently about some of their lyrics. Snoop, specifically, pointed to Warwick's comments as having inspired him to pursue releasing what he described as "records of joy" later in his career.
While the moment has received a great deal of headlines attention following the doc's wide release, Warwick fans will note that the singer has discussed this meeting in the past, including in an April 2021 interview with True Exclusives.
"I invited them to my home and they showed up—this was a seven o'clock in the morning meeting with all of them—and they were all on time," Warwick recalled at the time. "We sat in my living room and I started the conversation. I said, 'Well, I called you all here together because I need to know something about you.' And we conversed about everything and I let them know, first of all, I would never call this meeting if I didn't care about them."
As Warwick explained, and as is also detailed in the new doc, she told Snoop and other guests that one day they may have daughters of their own who might come to them with questions.
"Just giving them food for thought, that's all," she said of her intentions. "That's all I wanted to do. And it worked. It absolutely worked."