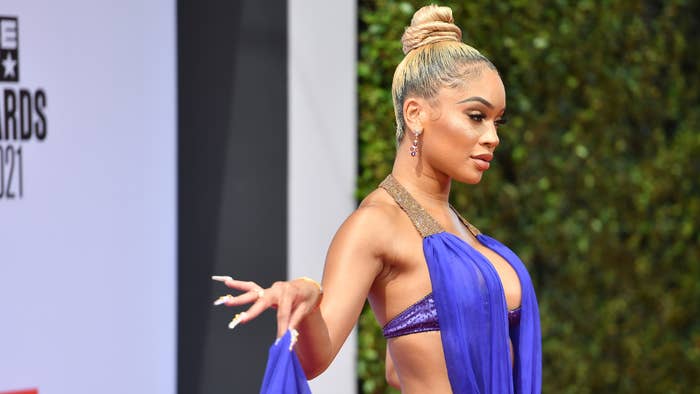 Saweetie has addressed the continued controversy surrounding Dr. Luke, with whom she's collaborated on multiple songs, in a new interview.
Deep into a new profile of the Pretty Bitch Music artist by Hunter Harris, the topic of the songwriter/producer—who's been accused of sexual assault and battery by Kesha—was broached. Notably, the Vulture-housed discussion was conducted in multiple parts, with the first conversation taking place last summer.
"I'm so green," Saweetie said then. At the time, the Luke-assisted "Tap In" had just been released.
"Maybe that's a double-edged sword because I'm coming into the studio and I'm not knowing who these people are," Saweetie added at the time, noting that she didn't know about the allegations against Luke until after they had worked together.
In January of this year, "Best Friend"—a collab with Kemosabe Records signee Doja Cat—was released. The track, which is slated to appear on Saweetie's upcoming debut studio album, also boasts writing and production credits from Luke. The profile sees Saweetie—this time speaking with Harris in 2021—being asked why she continues to work with the produce, whose recent credits also include tracks for DaBaby and Kim Petras, among others.
According to Saweetie, she was actually brought in on a "bundle deal" when she was first put in the position to work with Luke. She also seemingly implied that the most recent example of them working together, the aforementioned "Best Friend," is older than might be assumed by some listeners.
"I had those songs for over two years," she said in the new interview, published Wednesday. "Do I compromise my artistry, do I keep them in the vault, or do I release them?"
Saweetie said she's aiming to keep herself "out of any controversial situation in the future" but wouldn't give a firm yes or no when it comes to future work with Dr. Luke specifically:
Back in May, Saweetie also answered a few questions from the Associated Press about the producer. Asked by the interviewer if she was "hesitant at all about working with him because of the controversy," Saweetie conceded it was a "really good question, but I feel like this is turning into an interview that is taking the focus and the light off of such an amazing night," i.e. the Billboard Music Awards.
For the complete Vulture interview, which also includes some Pretty Bitch Music insight, head here.
Just last month, Saweetie became the latest artist to be featured as a Complex digital cover star. Revisit that interview here. The rapper was also just announced as coheadliner of Billboard and Samsung's Songs of the Summer concert later this month alongside Justine Skye.
As for Luke, the producer—who has also worked under pseudonyms, including Tyson Trax—last made headlines in December 2020 in connection with the 2021 class of Grammy nominees. Under the Trax name, Luke received a nomination for Record of the Year for his work on Doja Cat's "Say So."