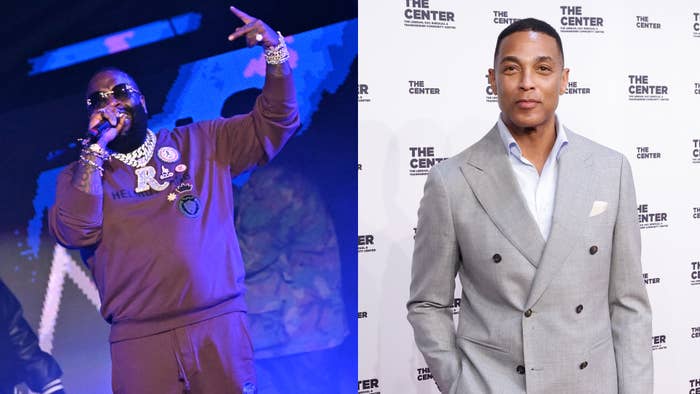 Rick Ross has heard the news of Don Lemon's CNN exit, and he has some ideas.
As seen amid a series of Instagram Stories updates, Rozay has publicly (and jokingly) informed Lemon of his Wingstop franchise locations' need for additional employees.
"Just found out Don Lemon was terminated from CNN," Ross said in one update. "Damn, Don. But guess what? The brothers got your back. We hiring at Wingstop and for some reason I believe you know what you doing with them lemon pepper wings. So, man, just send over your résumé. 17 years. Damn. But I'mma make sure I get you in front of the right grill, brother."
As reported on Monday, Lemon first revealed in a tweeted statement that he had been "terminated" by CNN after 17 years with the network. A CNN rep disputed Lemon's account of the exit in a statement released Monday, saying that Lemon had shared an "inaccurate" description of what transpired.
On Tuesday's CNN This Morning, Poppy Harlow and Kaitlan Collins addressed Lemon's exit while also looking ahead at the slot's future. 
In addition to the Wingstop offer, Ross also proposed a Rapstar energy drink flavor inspired by Lemon.
"Just came up with a wonderful idea," he said in another IG update. "Well, really, Don—you helped me come up with this. But I need to hit the team over at Rapstar energy drinks and let 'em know we should introduce the Don Lemon flavor."
Lemon hasn't spoken out publicly about his CNN split aside from the aforementioned statement. Ross, meanwhile, is fresh off his appearance on an episode of the currently-in-progress third season of Dave on FXX. See a clip below.