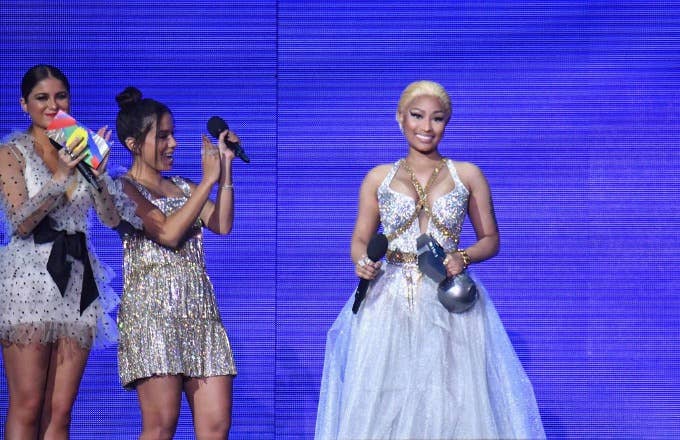 Nicki Minaj has addressed her tweeted retirement announcement, noting that—in hindsight—the sentiment should have been shared via her Beats 1 show Queen Radio.
Overnight, Nicki responded to a fan who said she had left the community "hurting" with the sudden announcement.
"I'm still right here," Nicki said. "Still madly in love with you guys and you know that." Minaj also promised that fans would "be happy" with her upcoming Queen Radio discussion on the matter.
"The tweet was abrupt and insensitive. I apologize babe," she said.
The tweet in question was shared earlier Thursday and saw Nicki pointing toward a focus on having a family while also seemingly addressing her detractors. Minaj's retirement comments, of course, quickly became the source of numerous headlines and detailed commentary.
According to TMZ sources, Onika's decision doesn't "add up" as she has studio time booked through October and has plans to record with a number of artists. The insiders also say her retirement announcement stems from exasperation with trolls harassing her online. "Our sources say the rapper was pushed over the edge by constantly defending herself over accusations of not writing her own songs, questions about her hip-hop legacy…and her relationship with her fiance," the site writes. There's also word that she's "just taking a much-needed break from the haters and simply needs a moment to chill and reevaluate."
Last August, Minaj released her Queen album, which arrived four years after the multi-platinum The Pinkprint. Queen's run of singles included "Chun-Li," "Bed" with Ariana Grande, and the Biggie-interpolating "Barbie Dreams."
Earlier this month, Nicki joined Megan Thee Stallion, Ty Dolla Sign, and Juicy J for the official video for Megan Thee Stallion's season-defining hit "Hot Girl Summer."