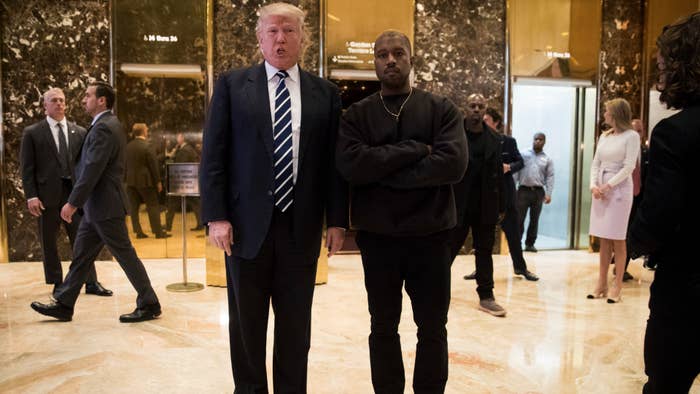 The artist formerly known as Kanye West says he asked ex-Apprentice host Donald Trump to be his "running mate in 2024" while wearing jeans in the bowels of Florida.
In a tweet shared Tuesday night, Ye briefly addressed what he says was his first time at Trump's Mar-a-Lago resort, jeans-wearing included.
"First time at Mar-a-Lago," he wrote. "Rain and traffic. Can't believe I kept President Trump waiting. And I had on jeans."
From there, Ye set up a poll regarding his apparent 2024 plans, which have again become a point of discussion in recent days.
"What you guys think [Trump's] response was when I asked him to be my running mate in 2024?" Ye, who previously staged a campaign in 2020, asked.
Of course, Ye and Trump have been friendly in the past, including in a widely criticized White House visit in 2018 (see below) during which Ye wore a MAGA hat. More recently, however, Rolling Stone sources claimed Trump had said privately that Ye needed "help" amid then-ubiquitous coverage of a number of comments called out as anti-Semitic.
Adidas, Balenciaga, MRC, and others are among those who have cut ties with Ye in recent months.
"Ye's recent comments and actions have been unacceptable, hateful and dangerous, and they violate the company's values of diversity and inclusion, mutual respect and fairness," an adidas rep said in a statement shared in October announcing the immediate termination of the partnership.
As for the inclusion of a "white lives matter" design in a YZY SZN 9 presentation in Paris, also in October, here's the story of how two activists are stopping Ye from legally selling the shirts.