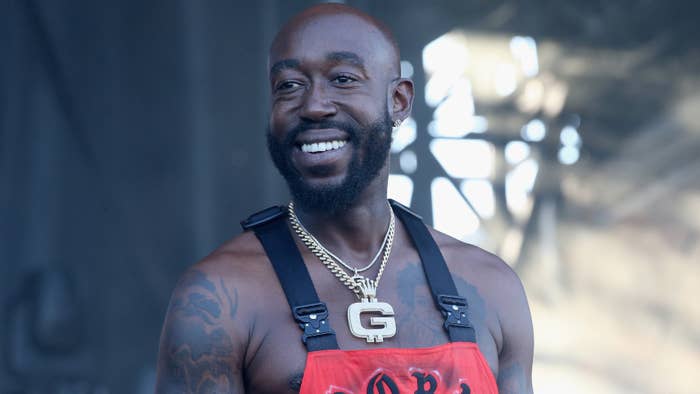 Super Bowl weekend provided the conditions necessary for a chance encounter between Freddie Gibbs and Don Cheadle.
As documented by the "Big Boss Rabbit" artist in a tweet, "the fucking goat" approached him on Sunday evening and joked that "people say we look alike." 
Shortly after Gibbs' shared recollection of the meeting, Cheadle confirmed it with a "true story" reply that implied this wouldn't be the last time the two of them got together.
"Great meeting you, nephew," Cheadle, who will soon be seen in Noah Baumbach's White Noise adaptation, said.
Amid fans' lively responses to the friendly exchange, a photo of the two surfaced, seemingly showing a portion of the moment in question:
Over the years, a number of fans have taken to social media with jokes about Gibbs and Cheadle. Last September, Wale got in on the action, earning a playfully succinct response from Gibbs himself.
"Fuck u," Gibbs joked at the time.
Cheadle can currently be heard as the narrator of the recently launched revival of The Wonder Years on ABC. Gibbs, meanwhile, is among those slated for this year's Coachella return, headliners for which include Billie Eilish and the artist formerly known as Kanye West.