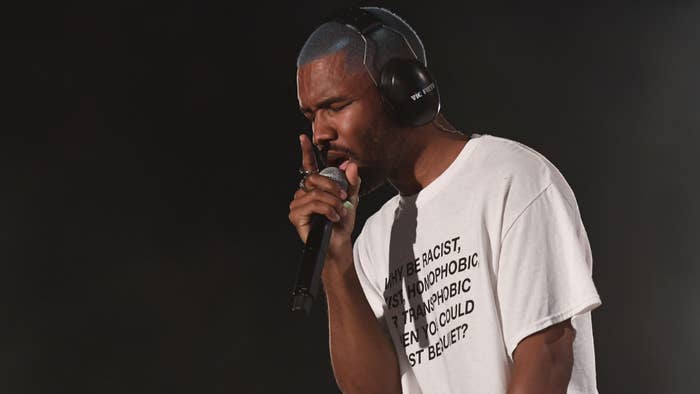 Frank Ocean's long-awaited Coachella headlining set finally went down on Sunday night, albeit not without a swarm of confusion surrounding it.
First, fans who had long been planning to watch from home via the official festival livestream were given the bad news: Frank's set would not be livestreamed. This alone spurred a range of reactions, most of them of the understandably frustrated variety. 
But still, fans at home found a way to get in on the action by tracking down various streams from those fortunate enough to be experiencing Ocean's performance in person. The hiccups didn't stop there, however, as Ocean's set ultimately didn't kick off until roughly an hour after its initially scheduled kickoff time.
As expected, there has since been a great deal of speculation (more on that below) as to why, exactly, the performance started late. There's also been much discussion about the look and overall feel of the performance itself, with some pointing out how the setup of the stage obscured fans' view—the loose-feeling layout of the set, meanwhile, has also received attention.
During the set, however, fans did receive good news in the form of some hinting at a new album. While any such album is likely still quite some time away from being shared with the world, Ocean made sure to mention it when addressing the crowd on Sunday.
"I wanna talk about why we're here because it's not because of a new album. … Not that there's not a new album but there's not right now," Ocean said. During the same pause in the set, Ocean also remembered his late brother Ryan Breaux, who died in 2020.
In terms of speculation, per festival insider info source The Festive Owl, sources claim the stage design was initially slated to feature an ice rink. "At the last minute," these sources claim, Ocean decided to have the stage design taken down, putting in motion an extensive deconstruction process that caused Sunday night's delay.
See more of what people have been saying about Frank's set below. For now, it's not clear whether we can expect an official stream of Frank's set for the second weekend of Coachella. As previously reported, Complex has reached out to the festival for comment.