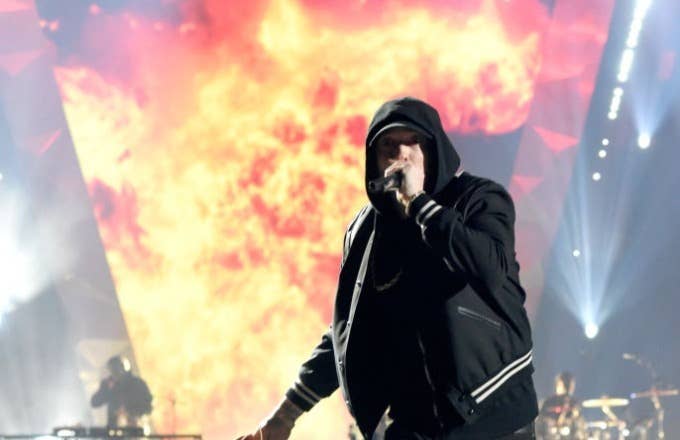 Eminem surprise-dropped a new album, Music to Be Murdered By, overnight.
And while early listener discourse surrounding the Hitchcock-inspired album has largely focused on the video for single "Darkness," which features a recreation of the 2017 Las Vegas mass shooting, fans are now making room for some dissection of the Slaughterhouse-assisted "I Will."
The track features KXNG Crooked, Joell Ortiz, and Royce da 5'9". Joe Budden, meanwhile, is expectedly absent from the proceedings. Em and Budden, of course, aren't believed to be on the best of terms.
In the track's fourth verse, Eminem notably addresses Lord Jamar, with whom he's exchanged words in recent years. Back in October, for example, Em joked onstage that he had a nightmare of sorts about him.
"I had a dream I was a fuckin' nobody and sucked at rap," he said to D12's Mr. Porter during a show in Abu Dhabi. "And then I wake up, you know who I was Mr. Porter? Lord Jamar."
On "I Will," Em raps that he's "far more worse" than a lengthy verse from Lord Jamar. He goes on to seemingly reference Jamar's previous criticism of his place in hip-hop, expressing frustration for someone (possibly Jamar) "claiming rap when it's not yours."
Here's the section in question:
I'm more than you bargained for and I am far more worse
Than a forty-some-bar Lord Jamar verse
Nothing means more than respect, so when I curse
You could say I swore to protect
My image, I have zero time or regard for
I never was, been claiming rap when it's not yours
If it was anyone's house G Rap and Rakim would be havin' you mop floors
Run-DMC would be havin' you cleanin' sinks
Yeah, your group was off the chain, but you were the weakest link
Lord Jamar hasn't responded to the "I Will" mention just yet. Em previously addressed Jamar in his 2018 track "Fall," featuring Justin Vernon.