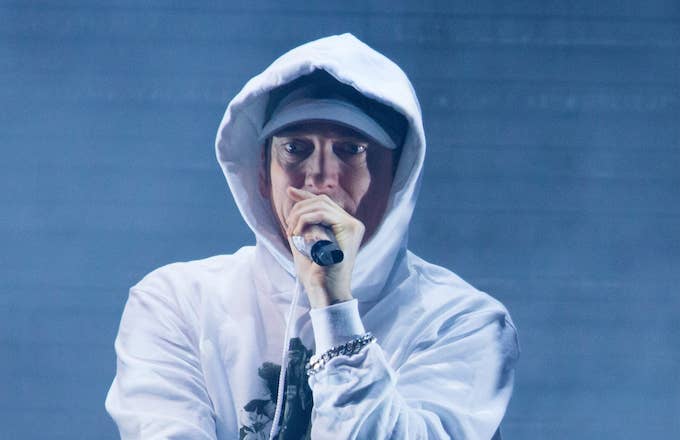 Eminem has taken aim at Lord Jamar.
During his Friday night concert in Abu Dhabi, Em turned to D12 member Mr. Porter to describe one of his recent nightmares.
"Mr. Porter, I had a dream I was a fuckin' nobody and sucked at rap," he said on stage, as pointed out by HipHop-N-More. "And then I wake up, you know who I was Mr. Porter? ... Lord Jamar."
The beef between the rappers has been brewing for quite some time, as Jamar continues to question Eminem's place in hip-hop as well as claiming black people don't listen to his music. Shady responded to Jamar in his 2018 Kamikaze track "Fall," in which he issued a warning to the NYC rapper: "And far as Lord Jamar, you better leave me the hell alone/Or I'll show you an Elvis clone/Walk up in this house you own, thrust my pelvic bone/Use your telephone and go fetch me the remote/Put my feet up and just make myself at home/I belong here, clown, don't tell me 'bout the culture."
50 Cent and Royce da 5'9" have come to Eminem's defense, blasting Jamar for his disrespectful comments.
"Lord Jamar, you a legend in the game ... You running up these views 'cause you got so much controversial shit to say about this one fucking person," Royce said via Instagram in August. "He walks away with the check and you walk away with, craving attention ..."
Jamar didn't seem too fazed: "What up Royce? Apparently, you were a little upset—again," he said on social media. "I thought the video was old actually. But nope, it's a new one. People don't really ask me about you Royce. They ask me about Eminem, but for some reason, you like to respond. OK. I get it. You're a loyal guy."
Clearly, this feud is far from over.