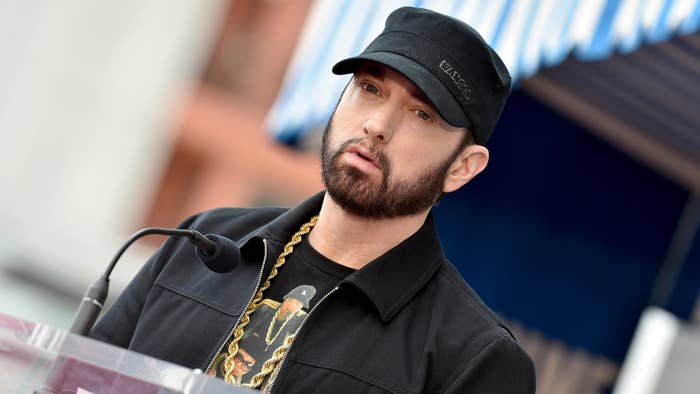 The 2022 nominees for induction into the Rock & Roll Hall of Fame have been announced, with Eminem appearing among the potential inductees in his first year of eligibility. 
"This year's ballot recognizes a diverse group of incredible artists, each who has had a profound impact on the sound of youth culture," said John Sykes, chairman of the Rock & Roll Hall of Fame Foundation, in a statement released Wednesday. "Their music not only moved generations, but also influenced the sound of countless artists that followed."
Em is joined in the 2022 nominees class by fellow first-time nominees A Tribe Called Quest, Beck, Duran Duran, Lionel Richie, Dolly Parton, and Carly Simon. Also up for potential induction this year are Rage Against the Machine, Dionne Warwick, Pat Benatar, Kate Bush, DEVO, Eurythmics, Judas Priest, Fela Kuti, MC5, and the New York Dolls.
An artist is only eligible for nomination 25 years after the release of their "first commercial recording." The voting process for the selection of the 2022 inductees will now begin, including input from a group ranging from artists to journalists. Fans can also get in on the process by clicking here.
In May, the Rock Hall will announce this year's inductees, with the final date and venue for the 2022 induction ceremony also expected to be unveiled in the months ahead. For the 2021 edition, Rock Hall inductees included Jay-Z and Foo Fighters, among others. 
"Growing up, we ain't think we could be inducted into the Rock & Roll Hall of Fame. … We were told that hip-hop was a fad," Jay said during his acceptance speech. "And much like punk rock, it gave us this anti-culture, this subgenre."