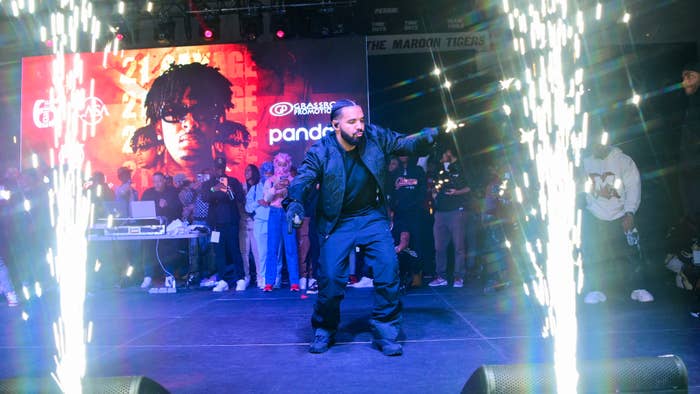 UPDATED 11/8, 5:45 p.m. ET: The first week projections for Drake and 21 Savage's Her Loss have now increased to 400,000, HITS Daily Double reports.
The collab album was previously anticipated to debut in the 335,000-350,000 range.
See original story below.
The first-week numbers projections for Drake and 21 Savage's inaugural collab album Her Loss have started to surface.
Per HITS Daily Double, the album is projected to open at 335,000-350,000.
For Drake, Her Loss marks his second new full-length of the year following the No. 1 debut of Honestly, Nevermind back in June. 21 last released a project with his Spiral: From the Book of Saw Soundtrack EP in May of last year.
Swiftly upon its unveiling on Friday, Her Loss spurred a series of headlines largely centered on the track "Circo Loco." Megan Thee Stallion, as well as her lawyer, addressed Drake's "this bitch lie 'bout getting shots but she still a stallion" in publicly shared responses.
"Despite the irrefutable evidence that Megan was a victim of gun violence, the ignorant continue to support her attacker," attorney Alex Spiro said in a statement shared with Complex on Friday.
The artist formerly known as Kanye West also addressed lyrics from "Circo Loco," specifically a J Prince-mentioning excerpt many had linked with his and Drake's feud-ending Free Larry Hoover Benefit era.
"Enough already," Ye said in a tweet on Friday. "I done gave this man his flowers multiple times."
Drake and 21 kicked off the Her Loss rollout with a surprise pairing amid Morehouse and Spelman Homecoming 2022 festivities in October. From there, the album's impending arrival was revealed with the release of the official video for Honestly, Nevermind track "Jimmy Cooks," followed by a string of cleverly staged faux promo clips.
Revisit the journey here.