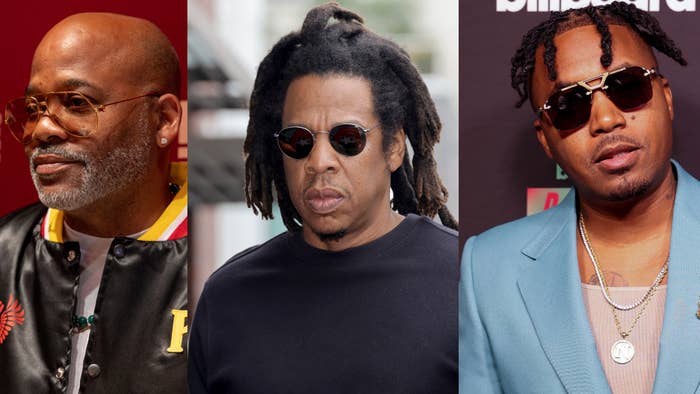 Dame Dash has once again shared his reflections on Jay-Z and Nas' classic feud, this time zeroing in on his initial reaction to the former's on-air apology in 2001.
In the final minutes of a recent episode of The CEO Show on America Nu Network, Dash first looked back on being named in Nas' Jay diss "Ether" before going a bit further in his recollection.
"I was in shock but I was happy," Dash told guest Willie Esco about an hour and seven minutes into the video below. "I wasn't hurt. I was hyped that he said my name but also I knew what homie was doing. … I thought it was a distraction. I'm like, this is bubblegum shit, right?"
Dash added that he had a Rocawear campaign in Arizona with Freeway at the time, noting that "this dumb shit is on the radio" upon landing and they "took an L because he got in this man's emotions."
From there, Dash spoke of his admiration for Nas and how his career has evolved over the years, calling him "one of the cooler ones" in the industry.
"I think he's evolved well," he said. "I never look at him and think he's, like, some place he shouldn't be. I look at the investments and the things that he does and then he says my name sometimes … He's one of the dudes that I consider straight vinyl. Pure hip-hop, unadulterated. I haven't seen him do nothing corny so I have a respect for him."
As for that aforementioned apology, which saw Jay saying sorry on Hot 97 over his lyrics on the "Supa Ugly" diss, Dash remembered thinking it made the larger Roc-A-Fella team look "crazy" at the time.
"For three weeks, I didn't talk to Jay about that shit," Dash said. "And then when he went and apologized and shit, I was like, 'Oh.' I was hitting him from the thing like, 'Get off the radio! We looking crazy!' And Irv [Gotti] did that shit. A Queens n***a."
See more above.
In July, Dame Dash made headlines after making similar remarks about Gotti's involvement. Notably, he also called Jay's "Ether" response "wack" by comparison.
"The rap that [Jay-Z] did was wack," Dash said during an appearance on the That's Fucked Up podcast. "When I heard it, I was pissed. … I was coming from doing a Rocawear ad, landed in Arizona, and I'm listening to this shit on the radio like, 'What the fuck is this?' … I'm like, 'What the fuck happened?' And they in there high-fiving—it's like what y'all high-fiving for?"
Of course, these days all is well between Jay and Nas (and has been for many years now). In 2021, they both appeared on DJ Khaled's Khaled Khaled single "Sorry Not Sorry."