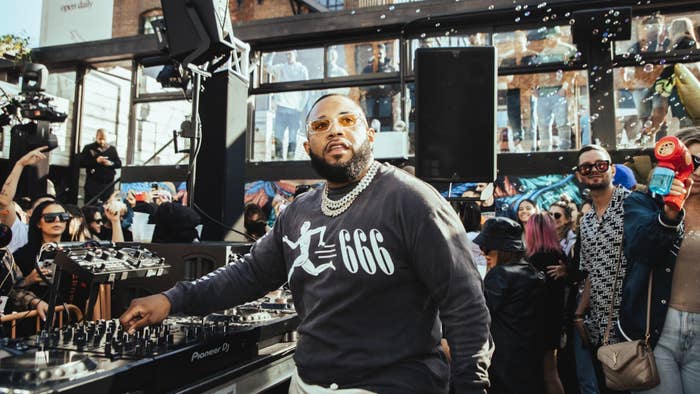 Diamanté Anthony Blackmon is putting Carnage to rest.
Friday, it was announced that fans can expect a five-show "grand finale tour" billed as the Carnage & Rare Presents: Thank You experience. Per a press release, these shows will mark the final time fans can experiment a performance from Carnage. As such, the routing has been carefully scheduled to see Carnage paying tribute to venues and cities that have remained special to him due to their importance in the earlier years of his career.
In an extended statement, Carnage said this will mark the start of a "new chapter" in his life.
"After 14 years, Carnage has been put to rest and is officially dead," he said. "As many of you know, I grew up in Guatemala and came to the U.S as a child who did not speak any English. The descendant of illegal immigrants, my family came to America to pave the way for a better life for me."
He added that it's "hard to describe" what he says have been the "ups and downs" of his life as Carnage, noting how many haven't seen the struggles that led to his present-day success.
"I started my journey as Carnage in 2008 and together, with the help of my loyal fans, have been able to achieve some of my wildest dreams," he said. "From working with music icons like Avicii, Drake, Swedish House Mafia, Migos, Tiesto, Young Thug, The Martinez Brothers, and Kanye West to selling out clubs, theaters, arenas, stadiums, and festivals around the world, all I can say is—THANK YOU—it truly means the world."
Elsewhere in his letter to fans, Carnage said "all good things must come to an end," although this particular ending will be accompanied by that aforementioned "grand finale" trek.
Following the announcement, Carnage told TMZ he will be continuing music under his Gordo alias.
See the full run of U.S. dates below. Following these intimate Carnage & Rare Presents: Thank You dates, Carnage will head to Australia for a pair of festival performances. According to press materials distributed at the time of the announcement, the Australia dates—including Sydney's Lunar Electric on June 4 and Gold Coast's Lunar Electric on June 11—will mark "his two final festival performances."
May 26 – Avalon Hollywood – Los Angeles, CA
May 28 – Webster Hall –  New York, NY
May 30 – Stereo Live Houston – Houston, TX