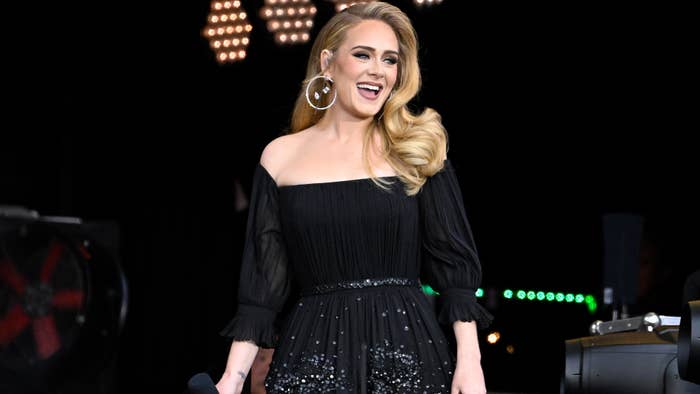 Adele is speaking out about the difficult but wholly understandable impetus for postponing her Las Vegas residency earlier this year, calling the circumstances surrounding the decision the "worst moment" in her career.
Speaking withElle in June for a cover story feature published Monday, Adele reflected on the minutes and hours leading up to her eventual announcement, which ultimately took the form of a tearful video shared to social media.
"It was the worst moment in my career, by far," Adele told Emma Carmichael, adding that she was "so excited" about the residency dates before issues became apparent. As Adele further explained, the show in its original form lacked "soul," due in part to the stage setup and the sheer magnitude of the traditional Vegas expectations.
Addressing the difficulty of the subsequent months after the emotional announcement, Adele recalled feeling "embarrassed" by what had happened, although the decision later proved pivotal when it came to self-confidence.
"But it actually made my confidence in myself grow, because it was a very brave thing to do," she said. "And I don't think many people would have done what I did." At the heart of it all, she suggested, was a pride-inducing move toward protecting one's "artistic needs."
To read the full interview, which also sees Adele revealing the at-home inspiration that swiftly spurred the reimagining (i.e. more intimate) of her Vegas stage design, hit this link. As seen below, Adele also joined Elle for a "Life in Lyrics" video segment.
In July, Adele addressed the art-protecting decision during a chat with Lauren Laverne for BBC Radio 4 and revealed she went through a period of grieving the loss of the originally scheduled shows following the announcement.
"I don't think any other artist would have done what I did, and I think that is why it was such a massive, massive story," she said at the time.
Also in July, Adele announced rescheduled Vegas residency dates, with the months-long endeavor set to begin this November at the Colosseum at Caesars Palace. The postponement was first announced back in January.