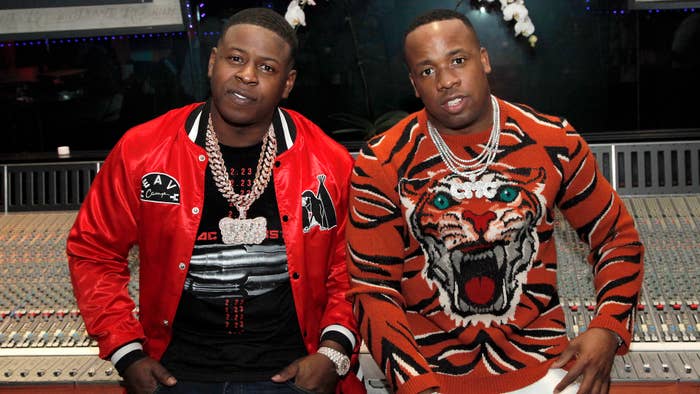 While reports surfaced that Blac Youngsta was dropped from Yo Gotti's label Collective Music Group, it seems that isn't the case.
On Thursday, Gotti appeared to address the situation in a series of tweets.
"I'm seeing too much Rap [cap] on these blogs," he wrote, calling the rumors "fake news."
He added, "LIL bro A BOSS He Can't Be Dropped #CMG #HeavyCamp," which seemingly alludes to Youngsta.
"P.S. keep my nameout all these rumors. Let a Real N!xxa WIN in Peace 🙏🏾," Gotti concluded before teasing he'll "be back next year."
Rumors circulated about Youngsta being booted after he performed his diss track "Shake Sum," aimed at Young Dolph, at a concert in Dallas. Youngsta also released a new song and video for "I'm Assuming" which shows him visiting a cemetery and walking up to a memorial that reads "Thornton," also Dolph's government name.
Both Gotti and Youngsta had long-running feuds with Dolph. However, following the Memphis artist's death, Gotti postponed the Nov. 26 release of his own double-album CM10: Free Game; it's unclear if Dolph's passing was the reason. Gotti took to Instagram on Nov. 24 to share the news. "#CM10 Still Loading…. NEW DATE," he wrote. "Stay Tuned."
Blac Youngsta later addressed criticism of him performing the Dolph diss. "I'm the type of n***a who ain't neva sat back and looked for nobody to feel sorry fa me!" he wrote on IG. "I come from the heart of South Memphis where you get no sympathy, don't even know what that is. With that being said, I could give 2 fucks what the world think about me."