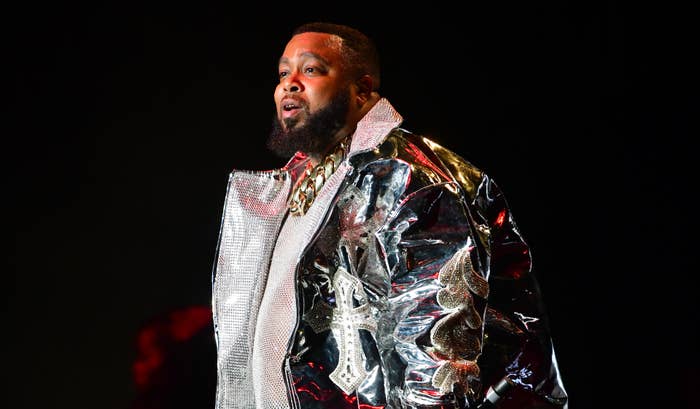 Florida rapper Diamond "Baby Blue" Smith has been sentenced over a year after being arrested in a COVID-19 loan scheme.
According to court documents, the 37-year-old Pretty Ricky member will go to prison for 20 months after pleading guilty on Aug. 4 to one count of conspiracy to commit wire fraud. In October 2020 he was apprehended for filing fraudulent loan applications in order to receive funds from the Paycheck Protection Program. Baby Blue was involved in a scam that received $24 million from the COVID relief program.
For one of his companies, Throwbackjersey.com LLC, Blue received a loan of $426,717, and his other company, Blue Star Records LLC, got $708,065. He later admitted to falsifying documents and information and using the money at the Seminole Hard Rock Hotel and Casino, and to purchase luxury items including a Ferrari. The car was seized by authorities when the rapper was arrested.
In addition to prison time, he's been ordered to pay $1,111,345 in restitution and $1,134,782 in forfeiture.
Baby Blue addressed his legal situation on Instagram, sharing a tweet and captioning it, "We all make mistakes…I admit I made a mistake, I've learned from it the hard way and won't make it again. My mistakes don't define me as a man and I will come out of this more than I was before. With more integrity, more character, more knowledge of my self, more wiser, more stronger!"
In a separate post he wrote, "I can't go back and change the beginning but I can start where I am and change the ending. There are things in life we don't want to happen but have to accept; Lessons in life we don't want to know but have to learn. We have to remember that life's greatest lessons are usually learned at the worst times and from the worst mistakes."
Last year, the FBI found that Baby Blue was part of a bigger scam where people were recruited to apply for falsified PPP loans. Smith also conceded to paying over $250,000 in kickbacks to two men, James R. Stote and Phillip J. Augustin, who spearheaded the fraudulent effort. Stote and Augustin pleaded guilty to conspiracy to commit wire fraud, and each face a maximum 20 year prison sentence for their efforts to illicitly attain $35 million.