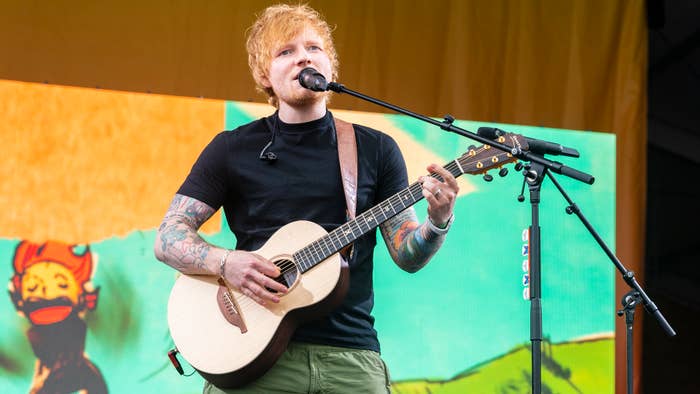 Ed Sheeran's "Thinking Out Loud" copyright infringement lawsuit is still ongoing.
CNN Business reports that last Thursday, the 32-year-old got on the stand to play his guitar and sing the first line of the song to prove that he didn't copy core elements from the Marvin Gaye classic "Let's Get It On."
Sheeran's performance was in response to the plaintiff's music expert Alexander Stewart's testimony that the chords from the first 24 seconds of his song are "virtually identical" to Gaye's song. The 32-year-old rejected that notion and played both as proof.
"It helps his argument, obviously," Sheeran said. "It works very, very, well for him, but it's not the truth."
The singer took the stand to share the backstory of how he wrote "Thinking Out Loud" with Amy Wadge in February 2014 at Sheeran's home in the UK. At some point during their session, Ed went to take a shower and came out to hear Wadge playing a set of chords. Sheeran's immediate thought was, "We need to do something with that." They finished the single later that night, inspired by the marriages of relatives who had recently fallen ill or died.
"Thinking Out Loud" peaked at No. 1 on the Billboard 200 and spent 21 weeks on the chart overall.
Sheeran testified earlier last week as well, where he said the melody was "probably" his idea, and that he "would've been an idiot to stand onstage in front of 20,000 people" if he had copied "Let's Get It On."
The lawsuit was filed by the heirs of Ed Townsend—the singer and producer behind Gaye's song—for copyright infringement. The Townsend estate includes his daughter Kathryn Townsend Griffin, sister Helen McDonald, and the estate of his former wife Cherrigale Townsend. They are reportedly seeking $100 million in damages. The Gaye family is not part of the case against Ed Sheeran, which you can read more about from Complex's Jordan Rose.