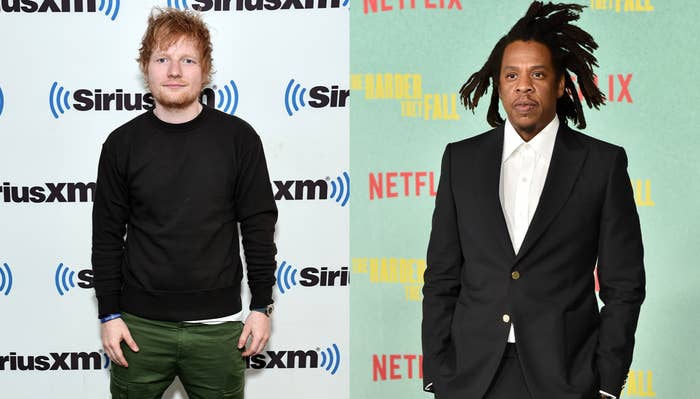 Jay-Z nearly appeared on Ed Sheeran's 2017 smash hit "Shape of You."
In an interview with Rolling Stone, Sheeran revealed Hov turned down the chance to contribute a guest verse. Released as the first single off Sheeran's third studio album, 2017's Divide, "Shape of You" would go on to top the Billboard 100 for 12 non-consecutive weeks, earning the British singer-songwriter a Grammy for Best Pop Solo Performance.
"We were in touch," Sheeran told RS. "I sent him the song, and he said, 'I don't think the song needs a rap verse.' He was probably right. He's got a very, very good ear. He usually gets things right. It was a very natural, respectful pass."
Although Sheeran is still waiting for his first guest verse from Jay-Z, the singer already collaborated with Beyoncé on the 2017 remix of his single "Perfect."
Last July, Jay-Z opened up about his process of choosing guest features in a conversation with Kevin Hart on Peacock's Hart to Heart.
"Pretty much every song that I'm on, I'm asked to be on," Jay shared. "I don't ask people to be on their songs."
"Sometimes it slips through the cracks," the 53-year-old added. "Sometimes I want to do it, and my life is in a certain place, and I'm moving and I can't do it. But I typically try to be straight up with people."