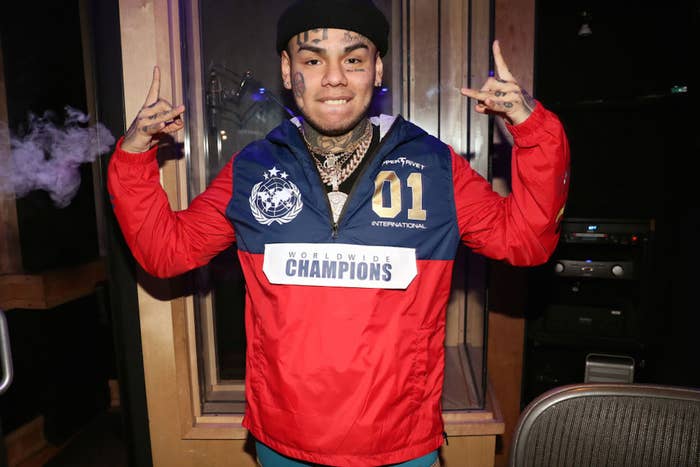 One of the most dramatic moments of Daniel "Tekashi 6ix9ine" Hernandez's year on top of the rap world came in July 2018, when the "Gummo" rapper was kidnapped by a former member of his own security team, Anthony "Harv" Ellison. Ellison—a member, like 6ix9ine was at the time, of the Nine Trey Gangsta Bloods gang—was convicted of the kidnapping, and of an unrelated slashing, following a trial in the fall of 2019.
On Monday, Ellison suffered another legal loss: this time, he was denied early release from Manhattan's Metropolitan Correctional Center (MCC) prison. On April 22, Ellison's laywer Deveraux Cannick filed a motion to let his client out until his sentencing, scheduled for June 19. Cannick said Ellison's "asthmatic condition" made him vulnerable to COVID-19, the disease caused by coronavirus. In the motion, the lawyer laid out shocking conditions at the MCC. 
"During a recent eight-day lockdown at the MCC, inmates on one unit reported having been forced to share one toilet, one shower, and one sink among twenty-six people, and were prevented from washing their clothing," Cannick wrote. "On other units, toilets overflowed in two-man cells, spreading raw sewage." 
Cannick also took pains to point out Ellison's "model" behavior, and included a long list of classes he has taken while incarcerated, ranging from business ethics to "women [sic] studies" to African and African American drama.
But that wasn't enough to move Judge Paul Engelmayer. In a decision on Monday, the judge wrote that the "vicious conduct for which Ellison was convicted, his significant criminal history, his high-rank in Nine Trey, and his continued violence while incarcerated"— Ellison attacked another inmate in January 2019—mean he can't go free, even temporarily. 
"Ellison's history makes overwhelmingly clear that, if at liberty even subject to conditions of release, he would pose a grave threat of harm to the community," Engelmayer wrote.
Ellison becomes the fourth man in the 13-person 6ix9ine/Nine Trey case to be denied early release as a result of the coronavirus pandemic. He joins Denard "Drama" Butler, Faheem "Crippy" Walter, and former Nine Trey godfather Roland "Ro Murda" Martin. Kintea "Kooda B" McKenzie was temporarily released in late March, until his June sentencing. And 6ix9ine himself, of course, is spending the last four months of his 24-month sentence in home confinement.
For more about Tekashi 6ix9ine, check out the Complex/Spotify podcast Infamous: The Tekashi 6ix9ine Story, narrated by Angie Martinez.