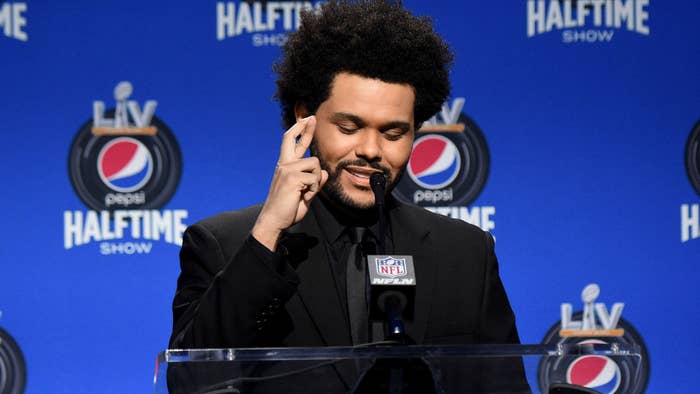 Getting hyped up for the Super Bowl during the middle of a worldwide pandemic is something of a mixed bag. Watching the big game with your buddies is a lot less fun over Zoom, but it also means less competition for the good nachos, so win some, lose some, I guess. There is, however, one big thing to look forward to Sunday: The Weeknd performing the halftime show.
On the heels of his massive 2020, the Canadian mega-star is set to headline the Super Bowl LV Pepsi Halftime Show, a.k.a. the evening's main event for those who don't actually care about football and/or which companies plunked down millions in ad dollars to create some fresh new CGI abomination in the hopes of selling you soda. And one thing's for sure, it's going to be appointment viewing, thanks to reports that Abel put down $7 million of his own money in order to bring his vision for the show to life.
It's anyone's guess what exactly that vision will be, but in the same way you can wager on everything from the outcome of the coin toss to what color Gatorade will be poured on the winning coach to whether the first touchdown will be scored by a player with a last name ending in 's' (OK, fine, I made that last one up), there are plenty of prop bets surrounding the halftime show too.
Here's a look at the latest Vegas odds for Abel's halftime performance, via Bodog.
Over 8 : -175

Under 8 : +135
With only 12 to 13 minutes to work with, hitting 8+ songs may seem like a tall order, but turns out the under's only happened once in the last 10 years (that'd be Bruno Mars in 2014). By comparison, last year's set list featured Shakira and J. Lo ripping through a medley of 23 songs. I'm not saying you should expect The Weeknd to go cover to cover on After Hours, but he is about to release a greatest hits album on February 5th… so you do the math.
Over 0.5: -250

Under 0.5: +170
The Weeknd told Billboard that he wants to make Sunday night's performance "a cinematic experience," and if it turns out to be anything like his recent After Hours videos, here's hoping Abel plans to weird out unsuspecting Super Bowl-watching families with a similarly dark, Sin City-inspired aesthetic. I'm not sure if unveiling bizarre new facial prosthetics technically counts as a wardrobe change, but if so, I'm taking the over.
"In Your Eyes": +400

"Starboy": +400

"Can't Feel My Face": +450

"Blinding Lights": +450

"Save Your Tears": +500

"Heartless": +800

"Too Late": +1000

"The Hills": +1000

"I Feel It Coming": +2500

"In The Night": +3000
Vegas seems pretty split on this one. Does The Weeknd go new with one of his After Hours singles, or a crowd-pleasing classic like "Starboy" or "Can't Feel My Face"—or is that last one potentially too sensitive for the NFL considering that's also a classic concussion symptom?
"Blinding Lights": -275

"Save Your Tears": +675

"In Your Eyes": +850

"Heartless": +1600

"Too Late": +1600

"Starboy": +1600

"Can't Feel My Face": +1800

"The Hills": +2000

"I Feel It Coming": +3000

"In The Night": +4000
Trying to pin down a notoriously unpredictable artist like The Weeknd feels a bit like trying to pin down GameStop's stock price, but there's no denying that "Blinding Lights" was inescapable in 2020, to the point where Pepsi made the hit single's pervasive earworm-y-ness part of their official halftime show promo. So the prospect of The Weeknd closing out his set with the most streamed song of last year seems like a pretty strong bet.
Yes: +450

No: -850


Will Ariana Grande be on stage during the halftime show?
Yes: +650

No :-1400


Will Doja Cat be on stage during the halftime show?
Yes: +425

No: -800


Will Kenny G be on stage during the halftime show?
Yes: +450

No :-850
Yes, it seems logical to think that The Weeknd would tap his frequent collaborator and fellow Toronto native Drake to join him on stage at Raymond James Stadium. And while an OVOXO teamup would certainly make fans' heads explode (especially back home in the 6ix), this is where we're obligated to point out that Super Bowl halftime show special guests rarely follow any kind of rationale or logic. For every surprise Beyoncé and Destiny's Child reunion, you get head-scratching pairings like the Black Eyed Peas and Slash (or Beyoncé, Coldplay, and Bruno Mars).
So while you could easily make a case for Drake, Ariana Grande, Doja Cat, or even Kenny G—who shared the stage with Abel at November's AMAs—it's equally plausible we'll get some out-of-left-field guest like Tampa native Aaron Carter instead. Or no one at all, considering, you know, the whole social distancing thing.
Yes: +700

No: -1600
You practically need to be a forensic accountant to sort out The Weeknd and Bella Hadid's current relationship status, but I'm 99.9 percent sure that the extremely on-again, off-again couple are back off. Which means we're probably more likely to see a nonplussed Bernie Sanders show up in Tampa than Hadid.
Yes: +350

No: -600
Considering most artists use the Super Bowl halftime show as a chance to get a little weird (see: Left Shark, 2019's SpongeBob cameo, or the Boss crotch-sliding into a camera guy), I seriously doubt The Weeknd's going to opt for something this basic, but hey, it's your money.
Yes: +250

No: -400


Will The Weeknd mention Donald Trump?
Yes: +900

No: -3500


Will The Weeknd mention Joe Biden?
Yes: +750

No: -2000
With COVID precautions resulting in bars being closed and large gatherings banned across major swaths of North America, this year's Super Bowl is poised for record ratings. Even so, oddsmakers think it's unlikely that The Weeknd is going to use a platform he's waited his entire life for to make a political statement about Trump (or Biden). Also, I could go without anyone mentioning Donald Trump ever again, thanks.
According to the odds though, Vegas thinks it's at least plausible the famous Canadian will shout out his home country—although I'd be way more impressed if he shouted out Scarborough instead.
Yes: +1200

No: -7500
This one's become a time-honoured prop bet tradition post-Nipplegate, but TBH, there's a better chance we'll see Gronk rip off his shirt during Super Bowl LV than The Weeknd.