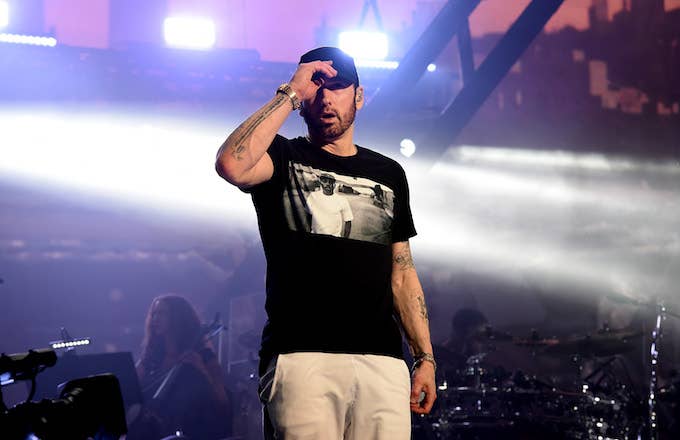 While there was no shortage of 4/20-related social media posts on April 20, Eminem apparently marked the occasion by celebrating a decade of sobriety. On April 21, the man born Marshall Mathers sent a message from his newly liberated Twitter feed featuring a picture of him holding his 10-year sobriety chip, noting that he celebrated the milestone the previous day.
Em has been candid about his addiction over the years and spoke on the 2007 overdose that served as his rock bottom.
"I overdosed on pills, and I went into the hospital," Eminem told Men's Journal during a 2015 profile. "I was close to 230 pounds. I'm not sure how I got so big, but I have ideas. The coating on the Vicodin and the Valium I'd been taking for years leaves a hole in your stomach, so to avoid a stomachache, I was constantly eating—and eating badly." Eminem also detailed the overdose on Revival's closing track "Arose."
Happy sobriety birthday to my mentor

@Eminem

... Keep fighting the good fight homie ... I love you for life 🙏🏿