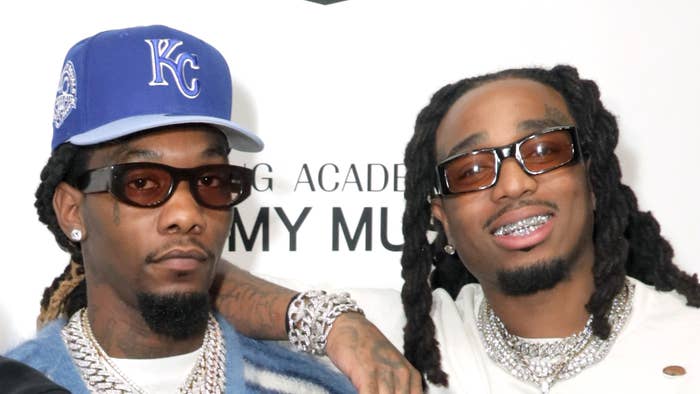 Quavo has released a new trailer for his upcoming second studio album titled Rocket Power, and he seems to have made a reference to comments Offset made about not being related to his Migos groupmates.
In the trailer released on Friday, Quavo can be seen watching a rocket ship prepare to launch into space—a clear tribute to the late Takeoff, who was shot and killed in November 2022. As the ship lifts off, Quavo starts a rap that mentions a "cousin" that is "tellin' the whole world that we ain't blood" but states that everything is "all love."
"Living like a rockstar, but we miss one/ My cousin jumped out the car I had to keep goin'/ Now he tellin' the whole world that we ain't blood/ N***a it's all love, yeah it's all love/ I guess we gotta be together in this small world/ N***a it's all love, yeah it's all love/ Rocket Power imma up this shit, let's keep it goin'," Quavo raps in the clip.
The trailer closes with a graphic that reveals Quavo's album is set to arrive on August 4.
The 32-year-old explained the theme of his album which he states is him "embodying all my emotions." He also had a message to his "family" that even when things get difficult, remember to keep Takeoff's memory alive.
"This Album Is Embodying All My Emotions. Through the process of healing I've learned to turn tragedy into triumph. I had to dig deep into my purpose and find the power to keep striving. To my fans, thanks for being patient wit me and supporting Us. To my FAMILY, even when times get hard we kno our MAIN mission is to keep the Rocket name ALIVE TIL INFINITY #RocketPower 🚀8/4/23," he wrote.
Quavo's mention of a cousin revealing he's not really related to him comes after Offset told Variety in an interview that he wasn't blood-related to his Migos groupmates and that he only hung out with them when they were younger. Fans initially believed Offset was Quavo's cousin until he dropped the bombshell revelation.
"He was classmates with Quavo—the third member of Migos—and began hanging out with him and Takeoff when Offset was in the sixth grade," the article reads. "While Quavo was Takeoff's uncle, the two were just three years apart in age, and although Offset is often referred to as Quavo's cousin, they are actually not biologically related."
Things seemed to be getting better between Quavo and Offset after footage of them meeting up at a memorial for Takeoff on his birthday surfaced online. Then, last month, Quavo and Offset shocked the world when they reunited at the 2023 BET Awards for a tribute performance to their fallen Migo.