Offset Clarifies He Isn't Biologically Related to Takeoff and Quavo
The "Clout" rapper reminisced about his ties to his Migos bandmates in a new cover story.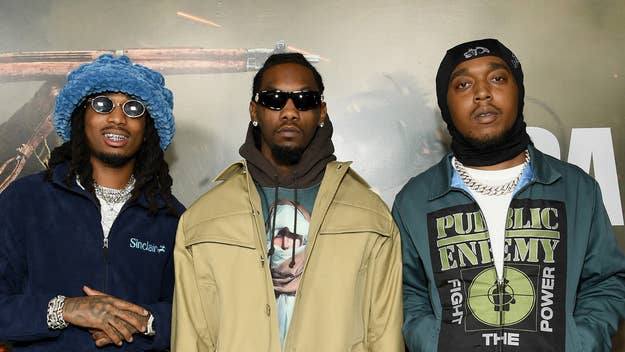 Getty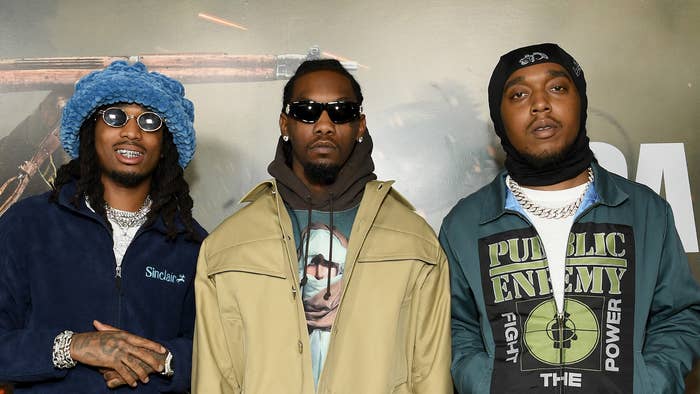 It's been revealed that Offset is not biologically related to Quavo or the late Takeoff.
During his Variety cover story, Offset reflected on his upbringing, including growing up without his father. One of the most interesting tidbits that came from that topic was the fact that he's not cousins with his Migos bandmates, as many believed in the past. Though the 31-year-old isn't quoted saying this, the piece—penned by Janee Bolden and Jem Aswad—says that "although Offset is often referred to as Quavo's cousin, they are actually not biologically related."
Even without that biological relationship, though, the trio still developed a bond growing up in Atlanta. According to the "Clout" rapper, he was Quavo's classmate and started hanging out with the uncle-and-nephew pair when Offset was in the sixth grade.
Their hangouts eventually turned into something more as the trio officially became the Migos and went on to change the rap game. Since making their debut in the early 2010s, Migos had fans thinking they were all blood-related, but this wasn't the case regarding Offset's connection to Quavo and Takeoff.
Takeoff's death in November 2022 hit Offset hard, and he's paid several tributes to the fallen MC, including a large tattoo of Take's face on his back that he showed the reporter from Variety.
"It's my favorite picture of him," he said. "I like it because he had his glasses off."
He previewed a song featuring Takeoff from his upcoming album, and showed he's still having a tough time processing his death when asked how he's coping.
"It's hard for me to talk about shit right now," Offset said. "I've never talked about this stuff. Seriously. Talking about Take is hard, man. Talking about all this shit is hard. That's why I don't, to be honest. That shit hurts. Like, it's gonna put me in a mood, and I don't want to get in that mood."
He added, "Some things I don't never tell nobody. He's not here. That shit feels fake, bro, I get through my day thinking it's fake. And I don't say nothing to nobody about it."
Elsewhere in the conversation, a spokesperson from Capitol Records, which Offset is signed to, revealed his sophomore album is on the way this summer and fans can expect more info shortly, including a tour announcement.
"Offset has made a phenomenal album; we can't wait until the world hears his masterpiece," the label rep told Variety. "We're deep into release planning now and will soon have big news to share!"