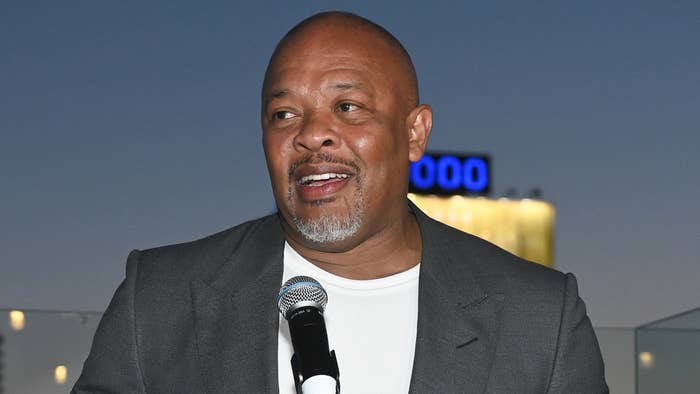 Dr. Dre almost quit music while recording his groundbreaking solo debut album, The Chronic, according to an excerpt from the newly released book The Streets Win: 50 Years of Hip-Hop Greatness.
In the new book, author, journalist, and music photography curator Vikki Tobak and the editorial director of LL Cool J's Rock The Bells Alec Banks celebrate hip-hop's 50th birthday by highlighting the culture, sound, and voices that created the genre.
Legendary producer Dr. Dre added some words about his journey into the industry and what helped him become the hip-hop giant he is today. However, there was a time when he wanted to give it all up because he felt stagnant.
Dre was fresh off leaving N.W.A. and was putting in work on his solo debut, The Chronic. However, he was still feeling the aftereffects of Eazy-E and Jerry Heller refusing to pay him the money he was owed. Couple that with feeling the material he was working on wasn't his best, and you have Dre, who was inches away from walking away from hip-hop.
"I was driving on the 101 freeway headed to the studio and, on that drive, I was thinking about quitting," Dr. Dre said. "I had been working on music for The Chronic for at least a month, and everything I was doing either sounded like what I had already done or not as good as what I had already done."
He added, "I started second-guessing my ability and whether music was what I was supposed to be doing, but I pushed those doubts aside and persevered."
Dre said he began making the best music of his life at that point, and it was important for him to realize what he was doing as it gave him a new focus to really lock in and chase his dreams.
"That moment was crucial to helping me solidify my determination to be a success," Dre continued. "It also confirmed that I possessed everything I needed, and all I had to do was stay patient and persistent. If I had listened to that little thing that told me to quit, my entire life would be different now."