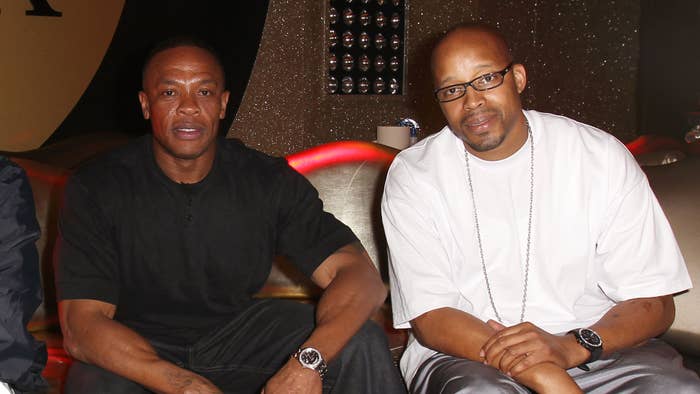 During his recent Drink Champs appearance, Warren G suggested he co-produced Dr. Dre's iconic debut album The Chronic, and didn't get paid for it.
"My only thing is I wish, you know, I wish I was more business-minded back then," he said at the 49:20 mark of the interview after suggesting he and Daz Dillinger co-produced on The Chronic, at least in part. "What my thing was, is like I said, to show the love back to him … This is the reward for you teaching me, by me and my homies coming back, putting this record together for you. I just wish I would've knew about publishing back then, 'cause that would be lovely right now."
"You're not telling me you didn't get publishing on The Chronic?" N.O.R.E. interjected."
"I didn't get shit. I didn't get no credit," Warren G replied. "Snoop gave me some credit. He said my name on 'Stranded on Death Row.' … I didn't get shit on that motherfucker. But I wasn't tripping, I was there for Dre, you know what I mean? You know, helping Dre."
The only credited appearance Warren G makes on The Chronic is in the intro for "Deeez Nuuuts." The production credits for the album only lists Dre as a producer.
Earlier in the interview, Warren G explained how his father used to play jazz around him, which influenced his style of production. "That right there is what made my style what it is, and what it was, and I didn't never try to be like Dre," he explained. "But he taught me the game as far like, the NPC, the technical side of it. … He also taught me how to splice tape, put that shit together with the alcohol, and all that shit. He taught me a lot of shit. … The love he showed me was the love I showed back, by going and searching for all those records, a lot of the records that we use on The Chronic."
He also suggested his main contribution to the iconic album was finding a good majority of samples featured on it. "I would go get the records, I would take 'em, sample 'em up, and then I let him hear it," he shared. "I'm like, 'Dre, listen to this.' He'll listen, he's like, 'That shit is hard.' If he liked it, he would take that shit and he would change it up, do a couple things. Like, 'Let Me Ride,' I played, that was a record I bought. … I still got the break record to this day. … Dre took taht shit and pieced that motherfucker together. When I heard it again, I was like, 'Goddamn.'"
Elsewhere in the interview, Warren G recalled convincing Snoop Dogg not to go watch the Mike Tyson vs. Bruce Seldon fight live in Las Vegas on the night 2Pac was shot four times in a drive-by shooting.
"The cold shit about it is, I had called Snoop," Warren G said. "At that time, I was single … I had a house to myself. I was like, 'Shit, I'm a bachelor. What's up, Snoop? Come over! I'm here watching the fight, I'ma invite a gang of people over, we gonna barbecue.' He was like, 'Fuck that shit, I'm going to Vegas with 2Pac and them for the fight.' So I was like, 'Damn, n***a! You don't never kick it with me, shit.'"
Hours later, he saw Snoop pull up outside his house to come and hang out and watch the fight. "If I wouldn't have talked to him and got him to come over to my house, he probably would've been right there in the car with them and got shot as well," Warren added.
Watch the full episode of Drink Champs here.